By Brianne Yantz
Impunity Watch Reporter, North America
GUATEMALA CITY, Guatemala – The trial of four former Guatemalan soldiers accused of killing more than 220 people during the country's civil war began earlier this week.  Particularly, the four men are accused of being a part of a counter-insurgency unit that carried out a massacre in the village of Las Dos Erres in 1982.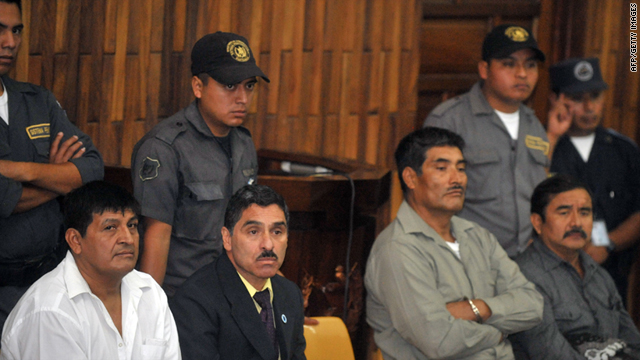 All four soldiers have pled not guilty.
The soldiers on trial – Carlos Antonio Carias, Manuel Pop, Reyes Collin and Daniel Martinez – were part of the Guatemalan Special Forces, known as the Kaibiles, during the civil war. Under the order of then military ruler General Efrain Rios Montt, a unit of the Kaibiles carried out the massacre in Las Dos Erres. It is alleged that the four soldiers on trial were a part of that unit.
According to BBC News, Los Dos Erres was targeted in December of 1982 because the military suspected the villagers were supporting or harboring left-wing guerrillas.
"Over a period of three days, the Kaibiles interrogated and then killed the inhabitants, including children, women and the elderly," BBC News reported.  "Many inhabitants were raped and beaten before they were shot or bludgeoned to death."
The civil war between Guatemala's right-wing military government and its left-wing rebels finally ended in 1996, after 36 years. At least 200,000 people had either "disappeared" or been killed; most of the victims were members of the indigenous Mayan population.
In the late 1990s, following the end of the war, an investigation was launched into the massacre in Las Dos Erres, but the case dragged on for years in Guatemalan courts.
Finally, in 2009 the Inter-American Court of Human Rights ordered Guatemala to investigate the massacre and to prosecute those who carried out the killings.
According to CNN, the state-run AGN news agency reported that early in the trial, survivors took the stand and testified about the disappearance of their families.
Petronila Lopez Mendez testified about the loss of her husband and two teenage sons during the massacre. As CNN recalled from the AGN report, Mendez also accused one solider, Carias, of withholding information about the whereabouts of her family in the aftermath of the incident. According to her testimony, she paid Carias money in exchange for her family, but they never reappeared.
As the trial of the four soldiers continues, several other suspects remain at large.
One other soldier suspected of involvement in the 1982 massacre – Pedro Pimentel Rios -was deported from the United States earlier this month. His trial date has not been set.
For more information, please see:
The Tico Times – Guatemala massacre trial begins – July 29, 2011
CNN – Guatemalan massacre trial underway – July 28, 2011
RTT News – Trial Of Former Guatemalan Soldiers Over Civil War Massacre Begins – July 25, 2011
BBC News – Guatemala Las Dos Erres civil war massacre trial begins – July 25, 2011
Author:
Impunity Watch Archive