By Tyler Yates
Impunity Watch Reporter, Middle East
BAGHDAD, Iraq — Tariq al-Hashimi, Iraq's fugitive Sunni vice president, left the country on Sunday for a diplomatic visit to Qatar, despite being under an international travel ban imposed by the Iraqi government.  The development is likely to put a wrench in the Iraqi government's recent attempts to repair ties with other Arab nations.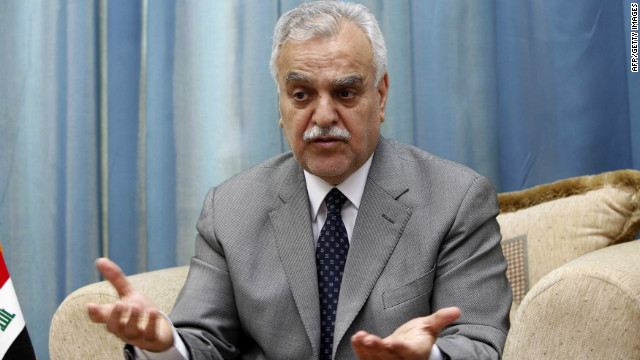 Al-Hashimi has increasingly frustrated the Shi'ite led government in Baghdad, as he has thus far avoided their attempts to prosecute him on terrorism charges.
Last December, al-Hashimi fled to the semiautonomous Kurdish region of Iraq after the government accused him of using his bodyguards as a personal death squad and issued an arrest warrant.  For the last few months he has lived under the protection of Kurdish officials, who refuse to turn him over for a trial in Baghdad.
Al-Hashimi has denied all of the charges levied against him, and claims he is the victim of a political witch hunt.
This visit is the first time al-Hashimi has left Kurdistan since the issuance of his arrest warrant.
Iraqi officials are enraged that al-Hashimi was allowed to leave Iraq.
"How could they let him leave?" said Ali al-Moussawi, an adviser to Prime Minister Nuri Kamal al-Maliki. "He is prevented from traveling. This is a violation. And receiving him in Qatar is a violation."
Al-Moussawi has called upon Interpol, the international police organization, to arrest the vice president.
Iraq has been making strides recently to portray itself as a stable, functioning country, mending rifts with its powerful Sunni Arab neighbors.
The Qatari prime minister recently expressed concern about the growing sectarianism in Iraq, and the disenfranchisement of the country's Sunni minority.  Similar concerns have been expressed by other Sunni-led Gulf states, such as Saudi Arabia and the United Arab Emirates.
The Sunni Gulf states are also wary of the close ties Iraq's government has formed with the Shi'ite state of Iran, which they see as a rival.
Al-Hashimi's office has said that he does plan to return to his temporary headquarters in Kurdistan once he finishes his diplomatic travels.  Any attempt to re-enter Iraq will likely set off a struggle between Iraqi and Kurdish authorities over who controls the country's airports, borders, and airspace.
Before official news of al-Hashimi's travels emerged, al-Malawi issued a warning to other Arab states that afford him an official welcome.
"They must know that the accused is wanted by a country which is a member of the Arab league … so he is not supposed to be received as a vice president, which is a violation of the nature of the international relations," he said.
For more information, please see:
Al Jazeera — Fugitive Iraq vice president arrives in Qatar — 1 April 2012
Boston Globe — Qatar: Iraq's fugitive VP arrives for visit — 1 April 2012
CNN — Iraqi VP visits Qatar despite travel ban — 1 April 2012
New York Times — Iraq's Fugitive Vice President Travels to Qatar — 1 April 2012
The Guardian — Fugitive Iraqi vice-president Tariq al-Hashemi travels to Qatar — 1 April 2012
Author:
Impunity Watch Archive