By Samuel Miller
Impunity Watch Desk Reporter, North America and Oceania
PORT-AU-PRINCE, Haiti — Haitian President Michel Martelly has stepped down from office, leaving the island nation with no immediate successor after elections marred by allegations of fraud were postponed twice. Martelly, who leaves the post after five years in office, delivered a farewell address to Haiti's National Assembly on Sunday.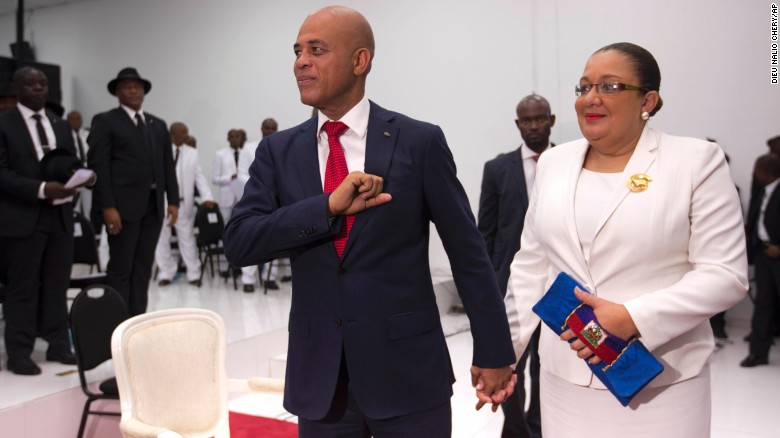 No successor has been chosen as of yet as opposition supporters challenge a deal to select an interim leader.
In a nearly 20-minute speech addressing the joint session of Parliament, Mr. Martelly said his biggest regret was that the presidential election had been postponed. Addressing the Haitian people, he stated he worked as hard as he could to improve the country.
In his address, Mr. Martelly was quoted as saying: "Haiti is recovering; yes, Haiti is standing. I was faced with all the challenges; facing the impossible, facing the most utter despair. … I can say today that I am ready to answer before the tribunal of history."
Mr. Martelly departed at the end of his five-year term, thanks to a last-minute agreement that laid out steps to implement a provisional government to take his place. Although the agreement left major doubts about who will govern the nation in the months to come, those with direct knowledge of the situation hailed it as an important move toward at least momentarily resolving a political impasse that had put hundreds of protesters on the streets.
Under the agreement reached this weekend, the Prime Minister will stay in power until an interim president is chosen by both chambers of Parliament. Once the interim president is in place, a consensus Prime Minister will be chosen.
Haiti's latest political crisis has resulted from a presidential election held in October with 54 candidates which critics have said was riddled with fraud. For example, political officials were able to vote multiple times, and the president's handpicked successor came in first despite being a virtual unknown, leaving the 52 candidates who did not make the runoff vote to question the results.
Mr. Martelly insisted that there had been no fraud and that the runoff should take place, urging voters to choose his candidate, Jovenel Moïse, a banana exporter. However, a former government official who officially came in second, Jude Célestin, refused to participate in the runoff until a new electoral council was chosen and a thorough review of the first round was conducted.
Unfortunately, an hour after Mr. Martelly's speech and departure from the parliament, violent street protests erupted.
Haiti last created a transitional government in 2004. That interim administration, which lasted for two years, took power in the chaotic days after President Jean Bertrand-Aristide was ousted by a rebellion and a U.N. peacekeeping force came to stabilize the country.
For more information, please see:
BBC News – Haiti president steps down without successor in place – 8 February 2016
Latin Post – Haiti President Departs; Chaos Ensues – 8 February 2016
ABC News – Haiti's President Departs to Make Way for Interim Government – 7 February 2016
CNN – Haiti's President steps down, leaving no successor – 7 February 2016
Miami Herald – Haitian President Michel Martelly bids farewell – 7 February 2016
NY Times – Michel Martelly, Haiti's President, Departs Without a Successor – 7 February 2016
Reuters (Video) – Haiti's president leaves office without a successor – 7 February 2016
Author:
Impunity Watch Archive