By: Hannah Gabbard
Impunity Watch Reporter, Africa
CAPE TOWN, South Africa – Several groups have filed a complaint against the Black First Land First (BLF) group at the South African Human Rights Commission (SAHRC) for hate speech.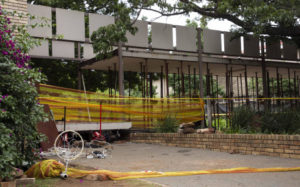 On Monday, February 4th, 2019 the Democratic Alliance (DA) and Freedom Front Plus (FFP) filed their complaint. They were later joined by the Congress for the People (COPE). All three groups have condemned the comments made by BLF spokesperson Lindsay Maasdorp after a walkway collapsed at the Hoërskool Driehoek school in Vanderbijlpark. This event resulted in the deaths of three students.
After the walkway collapsed, Maasdorp tweeted that the deaths of the students should be celebrated. Maasdorp also supported derogatory comments made on Facebook by other users. In response to Maasdorp's tweets, COPE stated that the BLF's intent is to "drive our country into a civil war." Maasdorp has previously been criticized for his social media posts. 
SAHRC recently announced that they were going to hold the municipal government accountable for the walkway collapse. The Commission specifically stated that they would conduct a human rights audit for the school's infrastructure.
For further information, please see:
Times Live – Human Rights Commission to take on govt over Hoërskool Driehoek deaths – 2 February 2019
EWN – DA, FFP to take BLF to SAHRC over comments on Hoërskool Driehoek tragedy – 2 February 2019
Times Live – BLF to be reported to Human Rights Commission over 'racist' Hoërskool Driehoek remarks – 3 February 2019
The Citizen – Cope charges BLF with 'racist hate speech' on Hoërskool Driehoek tragedy – 4 February 2019