by Michael Yoakum
Impunity Watch Reporter, North America
WASHINGTON, D.C., United States – The House of Representative passed an amended version of the Senate spending bill early Sunday that removed funding for the Patient Protection & Affordable Care Act (ACA).  Congress has until Monday at midnight to agree on a new spending bill or face shutting down the federal government for the first time in 17 years.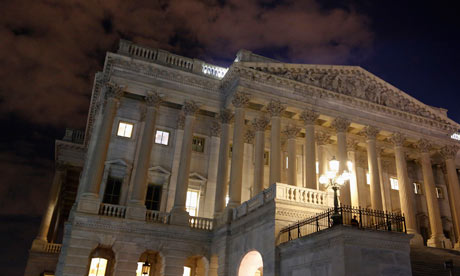 A shutdown of the federal government would require hundreds of thousands of federal employees to be placed on unpaid leave until a budget bill could be passed through Congress.
The amended bill passed by the House would place a one year delay on the implementation of the ACA and remove a tax on medical devices that aimed to help finance the healthcare law.  The ACA is set to begin enrolling uninsured Americans into the program on October 1, the beginning of the federal government's fiscal year.
"The American people don't want a government shutdown, and they don't want Obamacare" House Republican leaders said in a joint statement.  The Republican leadership then called upon the Senate to vote on the bill in order to avoid a shutdown.
Democratic leaders are holding firm against passing the bill, refusing to convene the Democratically-controlled Senate to vote on the bill passed by the House.  Senate majority leader Harry Reid promised to strip out the healthcare provisions of the House bill, calling the attempt to delay the ACA "pointless."
"After weeks of futile political games from Republicans, we are still at Square 1," Reid said, adding "[w]e continue to be willing to debate these issues in a calm and rational atmosphere. But the American people will not be extorted by Tea Party anarchists."
The White House issued a strongly worded statement Saturday, saying "Any member of the Republican Party who votes for this bill is voting for a shutdown."
President Obama has promised to veto the House version of the bill.
For more information, please see:
BBC News – US shutdown looms amid political rifts over health law – 29 September 2013
Reuters – Wall Street braces for volatility as shutdown seems likely – 29 September 2013
The Guardian – US government on verge of shutdown as House votes to delay health law – 29 September 2013
Wall Street Journal – U.S. Nears Shutdown as House Votes To Delay Health Law -29 September 2013
The New York Times – U.S. Shutdown Nears as House Votes to Delay Health Law – 28 September 2013