By Carolyn Abdenour
Impunity Watch Reporter, Middle East
RIYADH, Saudi Arabia – On 15 February 2012, Human Rights Watch ("HRW") called for the International Olympic Committee ("IOC") to prevent Saudi Arabia from participating in the Olympic games until the country allows women  to compete, beginning with the 2012 London Games.  Saudi Arabia has received criticism that the country violates the spirit of the Olympics by not bringing a female team to participate at the international event.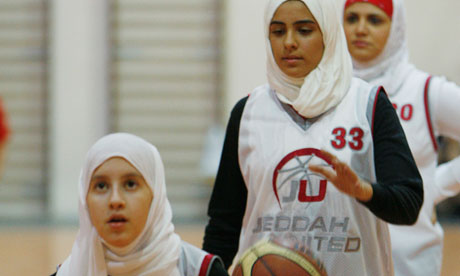 HRW's 51-page report entitled "Steps of the Devil: Denial of Women and Girls' Right to Sport in Saudi Arabia" highlights discriminatory practices against females when the State denies them physical education at state schools, limits women's athletic facilities, and refuses to support female athletes participation in the Olympic games.
HRW's report documents that "opponents of sport for women and girls put forward the 'slippery slope' argument that, once women start to exercise, they will shed modest clothing, spend 'unnecessary' time out of the house and have increased possibilities of mingling with men."  Opponents also purpose women could engage in sport outside the view of men while wearing modest cloths.
Since the country's law restricts women from driving, women face challenges accessing athletic facilities.  Furthermore, when a woman is outside, she must wear an abaya, a black cloak that covers her from head to toe.  HRW reported a woman received permission to run a marathon a few years ago if she ran in the abaya.
Moreover, Saudi Arabia's denial of women's right to sport raises health concerns for women and girls, where obesity and diabetes rates climbed in the country.
HRW asserts Saudi Arabia's policy violates the pledge of equality in IOC charter.  Saudi Arabia, Qatar, and Brunei are the only countries that have not sent women's teams to the Olympics.  However, their cultural counterparts, including Indonesia, Algeria, Bahrain, and Iran, have supported women's Olympic teams.
The IOC has banned countries in the past for their policies toward women.  Afghanistan, for example, could not participate in the 2000 Sydney Olympics because of the country's stance on women under Taliban rule.
In 2006, Reema Abdullah organized Jeddah King's United, the country's first all-female soccer team, in Jeddah, Saudi Arabia.  The 33-year old reported the women practice three times a week on "a proper size football field with grass that is surrounded by a wall."
Regarding the upcoming Olympic games, Abdullah told the Associated Press, "We will watch the London Olympics and we will cheer for our men competing there, hoping that someday we can root for our women as well."
For further information, please see:
The Guardian – Olympic Outrage at Saudi Ban On Women Athletes – 25 Feb 2012
Hamilton Spectator – Saudi Arabia's Sports Gap – 22 Feb 2012
Sports Illustrated – Female Athletes In Saudi Arabia Challenge Tradition Muslim Norms – 17 Feb 2012
Human Rights Watch – IOC/Saudi Arabia: End Ban on Women in Sport – 15 Feb 2012
Author:
Impunity Watch Archive