By: Adam King
Impunity Rights News Reporter, Africa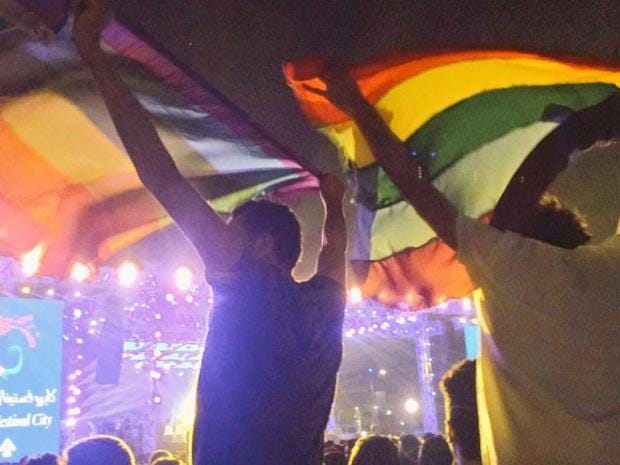 CAIRO, Egypt — A string of arrests following the recent display of the LGBT flag at a concert in Cairo has human rights groups such as Human Rights Watch and Amnesty International calling for an ease in crackdowns against suspected homosexuals. According to the Independent, the flag in question was displayed at a Mashrou' Leila concert on September 22, 2017. Since the concert, a number of people have been detained on suspicions of homosexuality,
"Both Amnesty and HRW said in their Saturday statements that a total of 11 people had been arrested since the concert, held at an upscale mall in an eastern Cairo suburb."
One of the techniques commonly used in a homosexuality investigation is an anal examination. Countries such as Tunisia are moving away from the mandatory use of anal examinations, but that does not change the status of homosexual people in the Middle East.
Homosexuality remains a sensitive topic in Egypt particularly,
"Homosexuality is highly taboo in Egypt among Muslims and minority Christians alike, but it is not explicitly prohibited by law. Egypt regularly arrests gay men, with large police raids on private parties or locations such as public baths, restaurants and bars."
The majority of Egyptians see homosexuality in a negative light and as an import of Western culture, "Most Egyptians see homosexuality as a practice that goes against nature and religion and insist it is a social disease exported by a decadent West."
Mashrou' Leila actually developed as a counter to the environment around homosexuality in the Middle East. Founded in 2008 at the American University of Beirut, the band has been touring the Middle East and large parts of the United States. The band is billed as an alternative rock band. The lead singer, Hamed Sinno, has developed a notable reputation for his advocacy through music,
"Hamed Sinno, the band's lead singer and lyricist, may be the most prominent gay musician in the Arab world, and much of his songwriting takes aim at homophobia and misogyny."
Music has been utilized as a prominent tool for resistance from Africa to Russia. The art form offers some the ability to connect with those that share similar struggles without openly voicing those struggles.
For more information, please see:
The Independent — 'Human rights groups urge Egypt to halt crackdown on LGBT people after rainbow flag waved at concert'— 30 September 2017
Impunity Watch — 'Tunisian Authorities Pledges to Stop Forced Anal Examinations for Homosexuality' — 30 September 2017
CNN — 'Pussy Riot's Nadya Tolokonnikova: Authoritarianism is spreading like 'sexually transmitted diseases' — 18 August 2017
Wikipedia — 'Mashrou' Leila' — August 2017
The New Yorker — 'Mashrou' Leila and the Night Club's Political Power' — 31 July 2017
Author:
Impunity Watch Archive