by Yesim Usluca
Impunity Watch Reporter, Middle East
DAMASCUS, Syria — Human Rights Watch released a report on Monday, February 13th, in which it stated that the government of Syria used chemical weapons in attacks late last year on opposition-controlled parts of Aleppo while fighting to retake the city.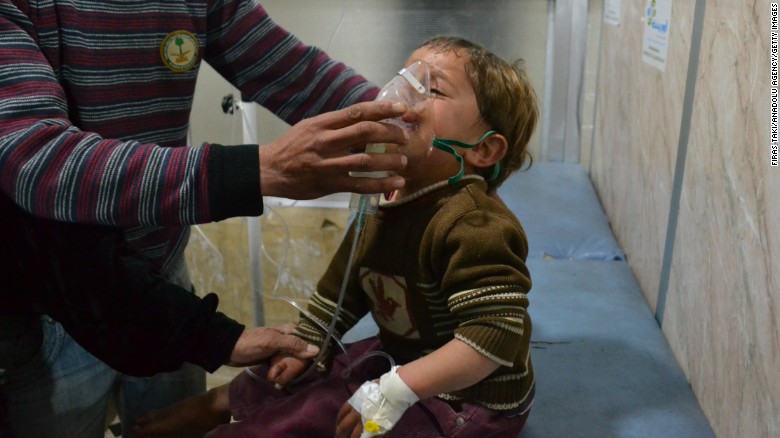 In reaching its conclusion, Human Rights Watch ("HRW") indicated that it conducted in-person and phone interviews with witnesses, and analyzed video footage, photographs and social media posts. Through the evidence-gathering process, the rights group determined that government helicopters had dropped chemical bombs in Aleppo's residential areas on at least eight occasions from November 17th through December 13, 2016. HRW further indicated that the attacks led to the deaths of at least nine civilians, including children, and injured hundreds more.
Although the use of chlorine could not conclusively be determined, HRW stated that chlorine bombs are identifiable initially through "yellow or yellow-green smoke" at the impact site of a bomb. It further stated that victims' and witnesses' physical ailments are indicative of the use of chlorine. Affected individuals experience symptoms such as difficulty breathing and swallowing, burning throat and eyes, severe coughing, nausea, fainting, and foaming at the mouth. As it is heavier than air, it sinks into basements and bomb shelters, thus suffocating anyone harbored inside. Chemical weapons are known to affect children most severely as they "inhale the[] smells and [] end up suffocating."
The chlorine attacks were focused on areas the government forces were attempting to retake. HRW's Deputy Emergencies Director, Mr. Ole Solvang, indicated that use of chemical weapons at the same time as the "frontline" was a strong indicator that the chemicals were an "integral part of the offensive." He stated that this is suggestive of chlorine attacks being "coordinated with the overall military strategy[,]" while noting that senior military officers "knew that chlorine was being used."
The Chemical Weapons Convention bans parties from using "properties of any chemical as a weapon." As a signatory since October 2013, HRW stated that Syria has violated the terms of this treaty by dropping chlorine bombs since April 2014 and using sarin in attacks in August 2013.
HRW called upon the 192 states who are parties to the Chemical Weapons Convention to address Syria's "continued violation" of the treaty, while taking steps to ensure compliance and strengthen the customary international law norm against use of chemical weapons. The organization further called upon the United Nations Security Council to impose sanctions on senior leaders in the chain of command, by stating that it should enact consequences against anyone or any authority utilizing chemical warfare. It also urged the government of Syria to immediately cease the use of chemical weapons.
For more information, please see:
Reuters—Syrian government forces used chemical weapons in Aleppo: rights group—13 February 2017
Human Rights Watch—Syria: Coordinated Chemical Attacks on Aleppo—13 February 2017
Middle East Eye—Syrian army 'used chemical bombs in co-ordinated Aleppo assault'—13 February 2017
The Washington Post—Syrian forces used gas attacks as key part of campaign to retake Aleppo, Human Rights Watch says—13 February 2017
The New York Times— Syria Used Chlorine Bombs Systematically in Aleppo, Report Says—13 February 2017
AlJazeera—HRW: Syria carried out chemical attacks in Aleppo—13 February 2017
CNN—Report suggests Russia, Syria deliberately targeted civilian areas of Aleppo—13 February 2017