By Zachary Lucas
Impunity Watch Reporter, Middle East
CAIRO, Egypt — A new report from Amnesty International has documented hundreds of people disappearing since early 2015. The enforced disappearances are being carried out by the Egypt's National Security Agency (NSA) and torturing some of those that are taken.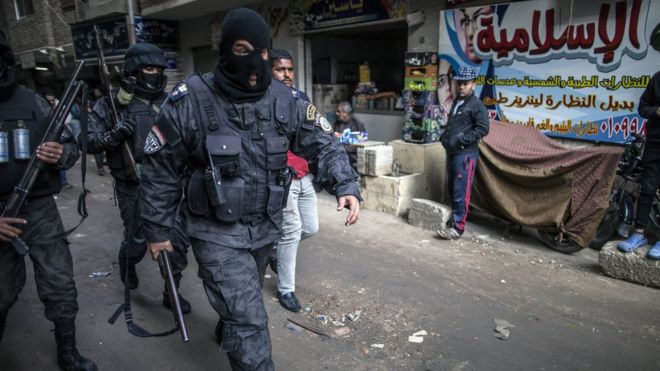 Amnesty International has documented over 630 instances of people disappearing since early 2015 by NSA. This amounts to three to four people everyday being taken by Egyptian security forces. The main targets of the disappearances are political activists, protesters, students, and other opponents to the regime. Those targeted include both Islamists that support the ousted political party, the Muslim Brotherhood, and secular activists. People as young as 14 have been victims to these enforced disappearances. Amnesty International says enforced disappearances are a "key instrument of state policy."
Amnesty International's report describes that some people, including children, are taken from their home in the night and sometimes blindfolded and handcuffed as they are transported to detention facilities. They are detained for months without access to a lawyer or their family with no formal charges brought against them and they do not stand trial.
The report also lists numerous instances of torture to those that were captured. Some of the examples of torture have ranged from long instances of interrogation to use of electric shocks to force confessions.
One example of torture was the enforced disappearance of Aser Mohamed, a 14 year old. Aser was arrested and held for 34 days in NSA offices in Cairo. While there, Aser suffered electric shocks and beatings to force a confession. Aser was later brought before a prosecutor that warned him more electric shocks would occur if he retracted his confession. When he returned to his family, he had wounds from electric shocks on his lips, head, arms, chest, and genitalia. Aser is currently awaiting his trial before an Egyptian court.
The disappearances and torture may have also extended to foreign activists. An Italian PHD candidate at Cambridge University, Giulio Regeni, was found dead on the outskirts of Cairo with visible signs of torture. The Egyptian government denied any responsibility for his death, but Amnesty International says his case matches the other documented instances.
Enforced disappearances are illegal under Egyptian law. Authorities are required to refer arrested persons to the Public Prosecution within 24 hours of detention. Enforced disappearances are not a new tactic in Egypt but are on the rise recently according to Mohamed Lotfy, Executive Director of the Egyptian Commission for Rights and Freedom. Most of those that forcibly disappear are later charged with terrorism related charges.
The Egyptian government has denied the information that was released in the report and accused Amnesty International of being a "non-neutral organisation motivated by political stances aimed at tarnishing the image of Egypt." Egyptian Foreign Ministry spokesman Ahmed Abu Zeid told CNN that torture is illegal in Egypt and all suspected cases are prosecuted. Zeid also said that a committee was being formed to investigate the allegations in the report. The United States State Department issued a statement calling the report "deeply troubling."
For more information, please see:
Amnesty International — Egypt: Hundreds disappeared and tortured amid wave of brutal repression — 13 July 2016
BBC — Hundreds forcibly disappeared in Egypt crackdown, says Amnesty — 13 July 2016
CNN — Amnesty: Hundreds 'disappeared' by Egyptian forces — 13 July 2016
NPR — Amnesty International Report Documents Activist Disappearances In Egypt — 13 July 2016