By Alexandra Sandacz
Impunity Watch Reporter, Europe 
PARIS, France – Last week, hundreds of thousands of people gathered in Paris to protest President Francois Hollande's bill to legalize same-sex marriage. Protestors waived their pink and blue flags depicting fathers, mothers and children to express their concern over the marriage bill.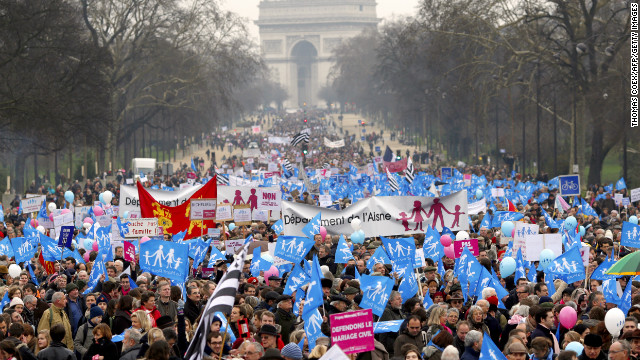 In his 2011 campaign, President Hollande promised he would move to grant the full status of marriage to gay couples. His promise would essentially upgrade France's 1999 PACs civil union law, which granted a number of rights to registered partnerships. As a result, President Hollande pushed through a same-sex marriage law with his Socialist party's parliamentary majority, however, not without opposition.
Despite a strong indication for the support of the legalization, followers of the Catholic Church, members of the extreme far-right Front National party, some Muslims, evangelicals, and a few openly gay people showed up to the Eiffel tower to voice their disagreement with Hollande's new bill. Protestors believe same-sex marriage would cause psychological and social harm to children regardless of the need for equal rights of gay adults.
However, notwithstanding their opposition to same sex marriage, protestors insist they do not oppose gays and lesbians. Instead, they support the rights of children to have a father and a mother. Protestors raised posters and banners that read, "Marriagophile, not homophobe," "All born of a father and mother," and "Paternity, maternity, equality."
Two Parisians, Jean-François and Amelie, stood next to the Eiffel Tower and held up placards next to their baby buggy that said, "Papa and Mama — nothing is better for a child" and "Children can only be made with a man and a women."
A 39-year-old business man and his wife handed out chocolate bars and stated, "We are demanding the withdrawal of the gay marriage law."
Furthermore, Yvonne Raguet, a mother, three-time grandmother, and practicing Catholic participated in the protests, "Gays shouldn't be allowed to adopt children. It breaks with all traditions."
Supporters of Hollande's bill believe the legislation will finally provide equal treatment of gays, lesbians, and the children same-sex couples are raising together.
Same-sex marriage is legal in 11 countries such as, Belgium, Portugal, the Netherlands, Spain, Sweden, Norway, South Africa, and nine states in the United States.
For further information, please see:
CNN – Protestors rally against same-sex marriage in France – 15 January 2013
Spiegel – Mass Rally in Paris: France Agonizes Over Plan to Allow Gay Marriage – 14 January 2013
BBC News – Mass Paris rally against gay marriage in France – 13 January 2013
NBC News – Protesters in France: Gay marriage would hurt children – 13 January 2013
Author:
Impunity Watch Archive