by Emilee Gaebler
Impunity Watch Reporter, Africa
KINSHASA, Democratic Republic of Congo – Earlier this week on Tuesday, the International Criminal Court, Trial Chamber II, handed down their decision in the case against Mathieu Ngudjolo.  Ngudjolo was charged with committing crimes against humanity in the eastern Democratic Republic of Congo in 1993.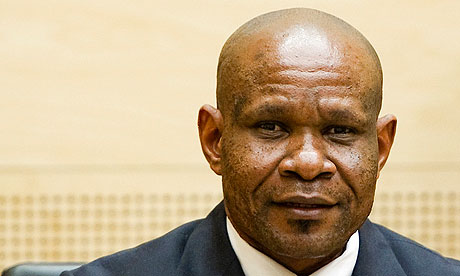 The judges unanimously acquitted Ngudjolo of the charges, with one filing a concurring opinion.  Presiding Judge Bruno Cotte (France) said that the prosecution's case was unable to present the evidence that made it possible for the court to find that Ngudjolo was guilty beyond a reasonable doubt.
Ngudjolo was charged with three counts of crimes against humanity and seven counts of war crimes, stemming from the destruction of the village of Bogoro on 24 February 2003.  It was alleged Ngudjolo was the leader of the Lendu group that murdered and raped some 200 people, including women and children.
Prosecutors presented witnesses who described the day, relating that babies were thrown against walls, women raped and villagers hacked to pieces with machetes.  The three key prosecution witnesses, used to show Ngudjolo was the leader of the attack, were found by the judges to be unreliable.  Their testimonies were too vague and contradictory for them to prove the prosecution's claim of Ngudjolo being the leader.
The ICC judges stressed that they did not, "question what the people of this community have suffered on that day … If an allegation has not been proven beyond a reasonable doubt … this does not necessarily mean that the alleged fact did not occur."
The acquittal is only the second verdict handed down by the ICC since it opened its doors 10 years ago.  Earlier this year, the court's first verdict found Thomas Lubanga, another Congolese rebel leader, guilty of using child soldiers and sentenced him to a 14 year prison term.
As the verdict was read, Ngudjolo showed no emotion.  His defense team, whose case rested on the claim that Ngudjolo was not even present in the village that day and only heard about the attack in the days after, was sure the court's verdict was correct.  Jean-Pierre Kilenda, one of his lawyers said that the judges properly showed that they respected the rights of defendants.
Experts in international law are worried what this verdict will do for the faith the public has in the prosecution team.  Eric Witte of the Open Society Justice Initiative said that Chief Prosecutor, Fatou Bensoda and her team might need to rethink the way that cases are built as, "a pattern of prosecution failures could undermine support for the court as a whole."
For further information, please see:
All Africa – Congo-Kinshasa: ICC Acquits Mathieu Ngudjolo in Second Verdict – 18 December 2012
Congo Planet – International Criminal Court Acquits Mathieu Ngudjolo Chui – 18 December 2012
The Guardian – ICC Acquits Congolese Militia Leader Over Atrocities – 18 December 2012
NY Times – Court Acquits Congo Rebel Leader of War Crimes – 18 December 2012
Author:
Impunity Watch Archive