By: Ethan Snyder
Impunity Watch Reporter, Africa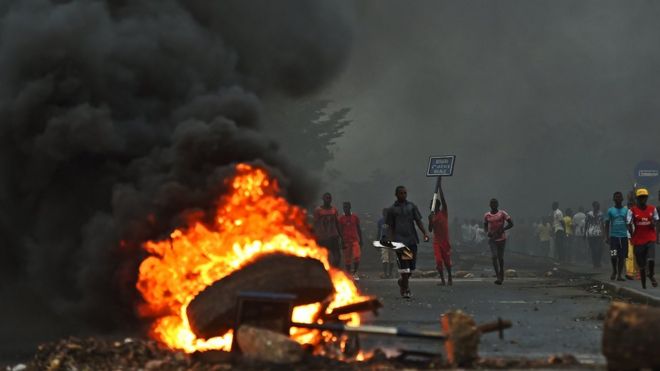 BUJUMBRA, Burundi – On Monday, September 4, the United Nations Commission of Inquiry on Burundi called upon the International Criminal Court (ICC) to investigate alleged crimes against humanity. Established in 2016, the commission was charged with examining reports of human rights violations from April 2015 to present.
President Nkurunziza announced in April 2015 that he intended to seek incumbency for a third term in conflict with Burundi's Constitution. After an unsuccessful coup and increasing political unrest, security forces cracked down violently on suspected opposition throughout the country. It is estimated that more than 350,000 people have fled to neighboring countries that include the Democratic Republic of the Congo, Rwanda, Tanzania, and Uganda.
The commission interviewed approximately 500 witnesses who corroborated allegations of sexual violence, detention of opposition and journalists, extrajudicial executions, torture, and inhuman or degrading treatment. The Burundian government denies all allegations relating to state agents being responsible for crimes against humanity.
Chair of the Commission of Inquiry, Fatsah Ouguergouz, announced that the commission is "struck by the scale and the brutality of the violations" and that they are concerned by the "lack of will on the part of the Burundian authorities to fight against impunity and guarantee the independence of the judiciary."
Despite multiple requests over the year-long period of investigation, the U.N. Commission was not allowed to go to Burundi and was forced to conduct the majority of their inquiry from neighboring countries.
Burundi's lower house of parliament passed a law in 2016 to withdraw from the Rome Statute – the treaty that established the ICC. Burundi would be the first country to withdraw from the ICC. Many countries on the continent have threatened similar action citing a disproportionate number of cases and charges being brought against African nations for human rights violations. Burundi is projected to exit the ICC by October of 2017.
The ICC continues to have jurisdiction to investigate allegations of human rights violations in Burundi until their formal exit. If Burundi successfully withdraws from the Rome Statute, the ICC investigation would require a resolution from the U.N. Security Council referring the case to the ICC to continue its inquiry.
Presently, only African states have been charged in the six cases that are either ongoing or about to begin since the court was established. There are preliminary investigations that have been opened into events elsewhere in the world.
The Burundi commission noted that "[t]here is a climate of pervasive fear in Burundi. Victims have been threatened, even in exile." Many witnesses have reported that they have been threatened or confronted by supporters of the Nkurunziza regime after fleeing to nearby countries.
Although Burundi has a history of high ethnic tensions, the commission does not find that the human rights violations are ethnically motivated.
For more information, please see: 
Human Rights Council: Interactive Dialogue on Burundi – Oral Briefing by Fatsah Ouguergouz – 19 September 2017
Africa News – UN asks ICC to investigate Burundi 'crimes against humanity' – 5 September 2017
New York Times – U.N. Group Accuses Burundi Leaders of Crimes Against Humanity – 4 September 2017
United Nations Human Rights: Office of the High Commissioner – Burundi: Commission of inquiry calls on the International Criminal Court to investigate possible crimes against humanity – 4 September 2017
Human Rights Watch – Burundi's refusal to cooperate with inquiry in contempt of membership on UN rights body – 4 September 2017
United Nations Human Rights: Office of the High Commissioner – Burundi: UN investigation urges strong action in light of gross, widespread and systemic human rights violations –  20 September 2016
Author:
Impunity Watch Archive