By Tara Pistorese
Impunity Watch Reporter, Africa
BRAZZAVILLE, Republic of the Congo—July 10, 2012 marked a pivotal occasion for the International Criminal Court (ICC) as presiding Judge Adrian Fulford handed down the tribunal's first sentence since its inception ten years ago.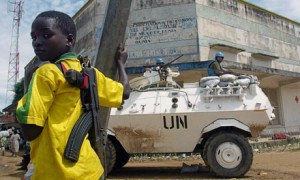 This past March, the ICC convicted Thomas Lubanga Dyilo, 51, of war crimes for abducting children to fight in the Democratic Republic of the Congo's eastern Ituri Region from 2002-2003.
The Ituri fighting at the center of Lubanga's conviction was part of a larger Congolese war between the pastoralist Hema and agriculturalist Lendu, which caused the deaths of approximately 60,000 people between 1999 and 2006.
Lubanga's militia took children as young as eleven years of age from their homes and schools and moved them to military training camps where they were beaten and drugged. Boys became soldiers. Girls became sex slaves.
Human rights activists also claim Lubanga's parties spent many years during the Congolese conflict engaging in widespread acts of rape.
The Court sentenced Lubanga to thirteen years for conscripting, twelve years for enlisting, and fourteen years for using child soldiers.
"Lubanga's sentence is important not only for the victims who want justice done," said Human Rights Watch international justice advocacy director Geraldine Mattioli-Zeltner, "but also as a warning to those who use child soldiers around the world."
However, some are hesitant to celebrate the conviction just yet. Lubanga's fourteen, thirteen, and twelve-year terms are to be served concurrently. Moreover, the six years he has already spent incarcerated during trial will count toward the true fourteen-year sentence he must serve.
In other words, Lubanga will be free again in eight years.
The warlord sat emotionless while Fulford announced his sentence, specifically noting Lubanga's intelligence and education were relevant factors in his conviction.
Former Chief ICC Prosecutor Luis Moreno-Ocampo, who was recently succeeded by Fatou Bensouda, asked for a "severe sentence" of thirty years "in the name of each child recruited, in the name of the Ituri region." This sentence, Moreno-Ocampo agreed, would be diminished to twenty years if Lubanga was willing to offer a "genuine apology" to his victims. No apology was ever given.
According to Fulford, the ICC shortened Lubanga's sentence for good behavior in light of what the Court viewed to be prosecutorial failures. Specifically, Fulford slated Moreno-Ocampo for failing to bring charges or present evidence of the alleged sexual violence.
Some are expressing disappointment at the perceived leniency of Lubanga's sentence, especially compared to the fifty-year sentence former Liberian President Charles Taylor was recently handed by the Special Court for Sierra Leone.
"We had hoped [Lubanga] would stay in prison for life in order to ease the minds of the victims," said Emmanuel Folo, a human rights lawyer in Ituri.
Unlike the unanimous conviction, the three-judge panel did not wholly agree on the sentence. Judge Odio Benito wrote a dissenting opinion indicating he preferred a fifteen-year sentence to acknowledge the harsh suffering and sexual violence endured by Lubanga's victims.
Where Lubanga will serve his time is yet to be determined. The ICC does not maintain prison cells to hold convicted war criminals; however, the Court has agreements with seven countries—Denmark, Serbia, Mali, Australia, Belgium, Finland, and Britain—in order to jail those convicted by the ICC.
For further information, please see:
AFP—War Crimes Court Hands DR Congo Rebel 14 Years Jail—10 July, 2012
CBS News—Thomas Lubanga Sentenced to 14 Years in Prison for Congo War Crimes, Use of Child Soldiers—10 July, 2012
The Guardian—Thomas Lubanga Sentenced to 14 Years for Congo War Crimes—10 July, 2012
Reuters—Congo Warlord Jailed 14 Years in Landmark Case—10 July, 2012
Author:
Impunity Watch Archive