By: Emily Green
Impunity Watch Reporter, South America
QUITO, Ecuador – Nearly 100 indigenous women of the Ecuadorian Amazon traveled to the capital to protest outside of the Presidential Palace. The women spent five days protesting and demanding a meeting with President Lenin Moreno to personally deliver their political mandate.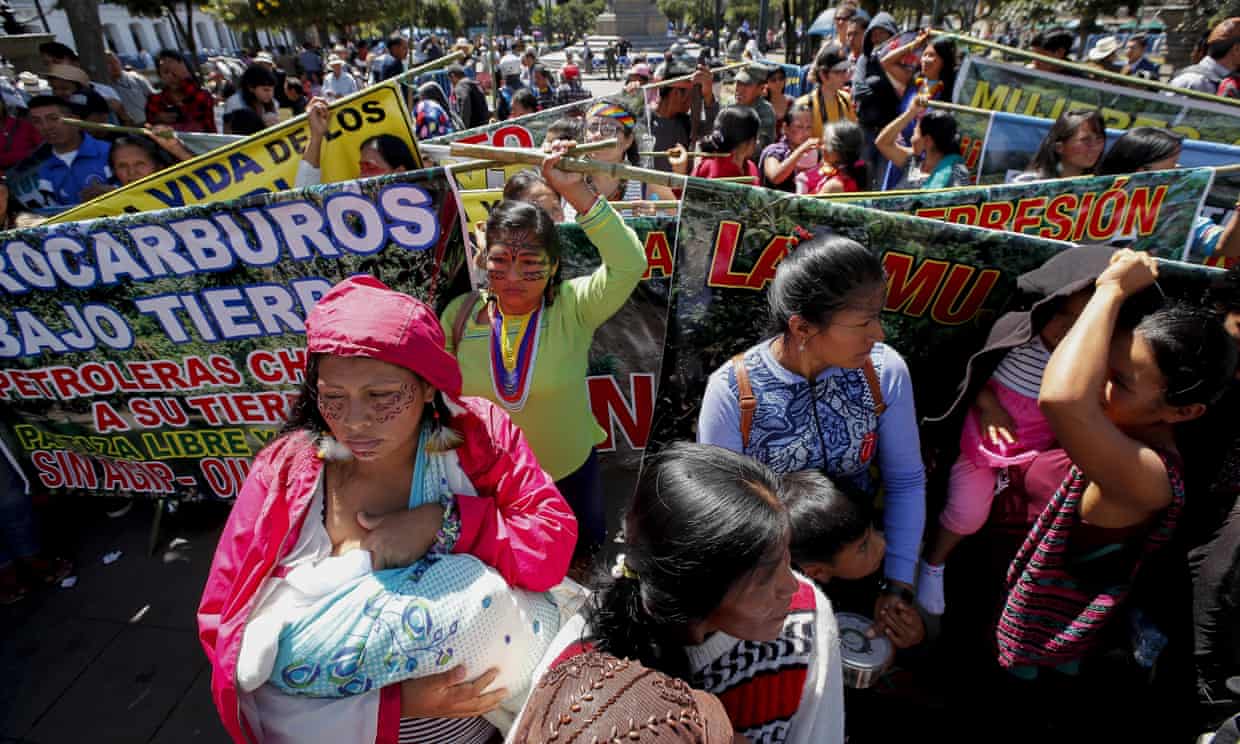 Many of the women travelled on long journeys by foot and by bus to gather for this protest. The purpose was to address the oil and mining activities in the Amazon and its harsh impact on indigenous women. The protesters sought a personal meeting with President Moreno to deliver the "Mandate of Amazonian Women Defenders of the Jungle of the Bases against Extractivism." The mandate includes 22 points that mostly involve putting an end to exploiting the Amazon. It points out that the industry has had a dire consequence on women in particular.
One point of the document refers to land-use issues. It demands the annulment of contracts granted by the government to the oil and mining companies. Also, it demands "that the indigenous territories and peoples be declared free of activities of extractive products such as oil, mining, hydroelectrics and logging."
The protestors explain that women who live around extractive areas are often the most vulnerable populations. After contamination or community displacement destroys their traditional lifestyles in the jungle, women tend to face more economic barriers than men. One study by Oxfam reports that women struggle to find work in local towns, which often results in increased cases of position, drug abuse, and alcoholism.
Women arrived at the presidential palace carrying anti-extractive banners, wearing traditional clothing, chanting, and vowing not to leave without speaking to the president. They continued to return throughout the week and made speeches through a loudspeaker in the central plaza. However, officials reported that President Moreno could not attend to the group since he was traveling home from Chile on a work visit. The protestors stayed for five days and authorities eventually agreed to a meeting between them and the President.
President Moreno's government has made several advancements with the indigenous community compared to the last administration. There have been improvements in areas such as bilingual education and reinforcing free, prior, and informed consent regulations for mining projects. President Moreno was praised by environmentalists last year after promising the United Nations he would take steps to protect the Amazon. However, Ecuador's economy has heavily depended on oil and gas for economic stability and growth. In February, the government held an oil auction and handed out several new mining concessions.
Indigenous women are demanding more of their government. Patricia Gualinga, an indigenous woman, told the president, "Your government cannot permit that our rights continue to be violated. Ecuador has to change its energy policy. It could be an example for the world."
For more information, please see:
Taipei Times – Indigenous women call on Ecuador not to drill for oil – 25 March 2018
Reuters – From Ecuador's Amazon to president's palace, indigenous women demand end to drilling – 23 March 2018
The Guardian – Keep off our land, indigenous women tell Ecuador's president – 23 March 2018
Mongabay – Indigenous Amazonian women demand end to extraction – 22 March 2018
Telesur – Ecuador: Indigenous Women Protest Lack of 'Consultation,' Environmental Damage Caused by Mineral, Oil Extraction in Amazon – 14 March 2018