By Kathryn Maureen Ryan
Impunity Watch, Managing Editor
DAMASCUS, Syria –Abu Bakr al-Baghdadi, the leader of the militant Islamic State of Iraq and the Levant (ISIS) which now controls large tracks of Iraq and Syria has reportedly accepted the pledgee of allegiance from Nigeria's Boko Haram, his spokesperson said in a statement, also calling on African supporters to take up arms. "Our caliph, God save him, has accepted the pledge of loyalty of our brothers of Boko Haram so we congratulate Muslims and our jihadi brothers in West Africa," Islamic State spokesman Abu Mohammad al-Adnani said in recorded message.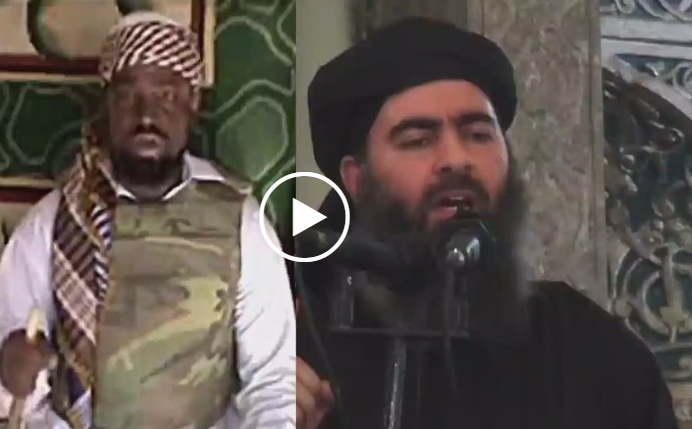 The audio recording was posted online by ISIS supporters in a 28-minute message. The message says that the caliphate, or Islamic State ISIS purports to have founded has now expanded to western Africa. The spokesman congratulated the group's "jihadi brothers" there. Al Adnani also encourages people to take up arms in Africa if they cannot make the trip to Iraq or Syria. While the authenticity of the message has not ben confirmed, it is feared the message marks the beginning of relations between these separate extremist movements which have together committed untold atrocities in Africa and the Middle East.
Boko Haram has killed thousands of civilians and kidnapped hundreds of people, including hundreds of young girls who were kidnaped from a Nigerian school, during a six-year campaign against the Nigerian government in an attempt to establish an Islamist state in northern Nigeria, the group pledged its allegiance to ISIS last week, highlighting increased coordination between Islamic extremist movements across north Africa and the Middle East.
The Islamic State of Iraq and the Levant has declared a caliphate in the territories it has captured in Iraq and Syria. The militants have targeted religious minorities and dissidents, kidnaping and murdering hundreds and forcing women into sex slavery. The group has also posted horrific videos of child soldiers, destruction of cultural antiques as well as videos showing the brutal murder of both Arab and Western hostages. ISIS militants, who have taken up arms against all but their own narrow and skewed interpretation of early Sunni Islamic theology issued a threat to religious minorities  "If you want to save your blood and money and live in safety from our swords … you have two choices: Either convert or pay jezyah."
Officials in the United States have said they were skeptical of whether Boko Haram's allegiance ISIS would translate into attempts by ISIS militants to provide the Nigerian movement with financial support or even weapons. "We do not currently see any reflections that ISIL would seek to subsume Boko Haram into its own caliphate or even priorities a terrorist partnership with the group," a U.S. intelligence official said. "Both groups, however, benefit from making the world think that the two deadliest terrorist organizations in history are working together more closely than they actually are," the official said.
Even if the purported allegiances between these two extremist organizations does not translate into financial or logistical support from either side the allegiance may serve to increase the perceived legitimacy of ISIS and Boko Haram. According to Jacob Zenn, a terror expert who lives in Nigeria
"Boko Haram will get legitimacy, which will help its recruiting, funding and logistics as it expands." He argued the allegiance "will also get guidance from ISIS in media warfare and propaganda. Previously Boko Haram was a sort of outcast in the global Jihadi community. Now it is perhaps ISIS's biggest affiliate. ISIS gets more international legitimacy as a global caliphate." For both Boko Haram and the ISIS movement, propaganda like the latest pledge of allegiance has become a weapon of extremism and an attempt to expand the reach of extremist ideology and power.
For more information please see:
Reuters – Islamic State leader accepts allegiance of Nigeria's Boko Haram  — 13 March 2015
CNN International – ISIS leader purportedly accepts Boko Haram's pledge of allegiance – 12 March 2015
Time Magazine – ISIS Welcomes Boko Haram Pledge – 12 March 2015
CNN International – Boko Haram's pledge of allegiance to ISIS: What it means – 10 March 2015
Author:
Kathryn Maureen Ryan