by Zachary Lucas
Impunity Watch Reporter, Middle East
DAMASCUS, Syria — After retaking the city of Manbij, rebel forces accused Islamic State (IS) forces of covering their retreat with a caravan of vehicles filled with civilians. Rebel forces stated they didn't fire at IS due to the presence of civilians.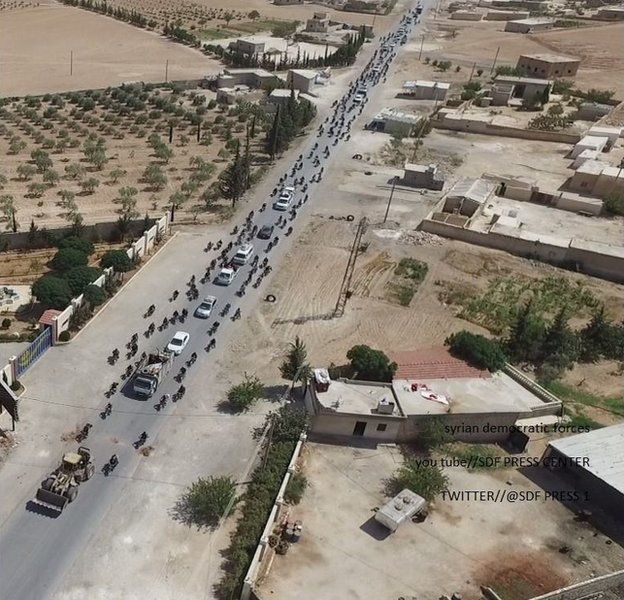 Syrian Democratic Forces (SDF), a United States backed rebel group in Syria, reported that IS forces covered their retreat with approximately 2,000 civilians. SDF, which is an alliance of Kurdish and Arabic fighters, stated they had regained control of most of Manbij, a city in the Aleppo governorate. An SDF spokesperson said that after IS forces had been defeated they abducted approximately 2,000 civilians from the town and took them in vehicles out of the city to Jarabulus.
The SDF claims that the civilians were taken with IS to prevent the SDF from firing at IS vehicles as they retreated. The SDF stated they treated everyone in the vehicles as non-combatants and didn't fire out of fear of hitting civilians. US led airstrikes also didn't target the vehicles after receiving information that civilians were in them according to Baghdad-based US-led coalition spokesman Col Chris Garver. Following the incident, most of the hostages were freed and returned to the city.
The ouster of IS forces in Manbij comes after a ten-week offensive waged by the SDF with help from US led airstrikes against IS. Manbij had been in IS control since 2014. Following the liberation of Manbij, citizens celebrated in the streets. Citizens celebrated by doing things that weren't allowed under IS authority such as cutting off beards and smoking. According to the Syrian Observatory on Human Rights, the ten-week battle for Manbij claimed the lives of over 400 civilians and 1,200 SDF and IS fighters.
The use of human shields is illegal under international law under the Geneva Convention and its Protocols along with the Rome Statute. IS has been accused of using human shields in previous incidents. After IS forces were pushed out of Fallujah in later June, on ground forces claimed that IS took civilians with them to protect their retreat. There was confusion concerning this situation which led to the IS convoy being fired upon. In May and June of this year, IS forces attempted to slow down Iraqi forces in Fallujah by positioning themselves near civilians trapped in the crossfire.
For more information, please see:
Al Jazeera — Syria war: ISIL flees Manbij with 'human shields' — 13 August 2016
BBC — Photos show IS militants fleeing Manbij with 'human shields' — 19 August 2016
CNN — Jubilation in Syria's Manbij as ISIS loses control of key city — 14 August 2016
Guardian — Isis appears to use civilians as human shields to flee Syrian town — 19 August 2016