By Emily Schneider
Impunity Watch Reporter, Middle East
JERUSALEM, Israel – For the first time since the Yom Kippur war in 1973, Israel has fired on Syrian forces. Israeli officials say they fired warning shots into Syria this weekend after a mortar round from Syria hit an Israeli vehicle in the Golan Heights.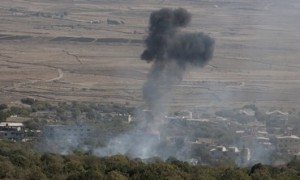 Last week, the Israeli forces claimed that three Syrian tanks entered the demilitarized buffer zone between the two countries. It was believed they were attacking rebel fighters in the area. Israel filed a complaint with the UN peacekeeping force and military chief of staff Benny Gantz visited the Golan Heights area in response. He warned the troops in the area to be on high alert and to make every effort to discourage the overflow of Syrian violence.
Activists in Syria near the Golan Heights have reported Syrian troop movement in the area in recent days. BBC Beirut correspondent Jim Muir likened the situation to that between Turkey and Syria at the border.
On Saturday, the IDF posted a statement on their website that said the mortar shell hit an IDF post in the Golan Heights adjacent to the Israel-Syria border, as part of the internal conflict inside Syria." Although no damage or injuries were reported, "IDF soldiers fired warning shots towards Syrian areas" in response.
The mortar shot hit an Israeli outpost in the Golan Heights, an area that is currently occupied by Israel. The Golan Heights is a rocky area with strategic significance. Israel seized the area from Syria near the end of the Six Day War in 1967. Israel repelled an attack in 1973 by Syria, who was trying to regain the area.
Although Syria and Israel are still formally at war, they signed an armistice in 1974 and an UN force has patrolled the buffer zone since then. Israel unilaterally annexed the Golan Heights in 1981, but that annexation was not recognized internationally.
Following this latest incident, the Israel Defense Forces filed a complaint through the UN forces patrolling the buffer zone, stating that overflow of mortar fire from Syria into Israel and its occupied territory will not be tolerated and Israel "shall be responded to with severity."
Defense Minister Ehud Barak reiterated that point, saying "additional shelling into Israel from Syria will elicit a tougher response, exacting a higher price from Syria."
The UN Secretary General, Ban Ki-moon, called for restraint from both countries on Sunday. Ban's office said,  "the Secretary-General is deeply concerned by the potential for escalation. He calls for the utmost restraint and urges Syria and Israel to uphold the Disengagement Agreement, respect their mutual obligations, and halt firing of any kind across the ceasefire line."
For further information, please see:
Aljazeera – Israeli Army Fires 'Warning Shots' at Syria – 11 Nov. 2012
BBC- Israel Fires Warning Shots 'After Mortar Strike' – 11 Nov. 2012
Israel National News – IDF Fires Back at Syria – 11 Nov. 2012
JPost – UN Urges Restraint From Israel, Syria After Shelling – 11 Nov. 2012
Author:
Impunity Watch Archive