By Paula Buzzi
Impunity Watch Reporter, South America
QUITO, Ecuador – Directors and a former opinion editor of El Universo newspaper were sentenced to three years in prison on Thursday and are required to pay a $40 million dollar fine for an opinion article calling President Rafael Correa a dictator.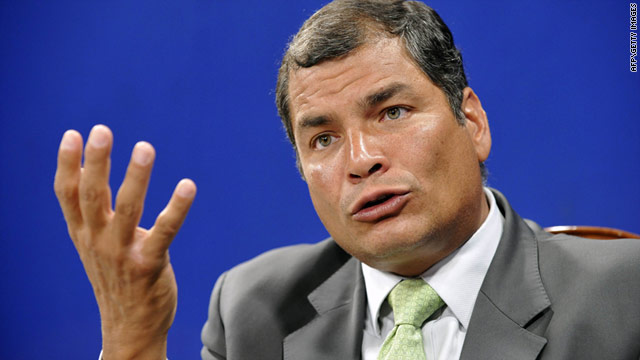 The article, which was published in February, accused President Correa of ordering his supporters to open fire at a hospital last September where he was being held hostage by the opposition party. President Correa called the negative press "baseless" and sued the newspaper for libel.
The day after the court ruling, El Universo published a quote from author Ayn Rand on a nearly blank front cover reading: "When you see corruption being rewarded and honesty becoming a self-sacrifice, you may know that your society is doomed."
According to the former opinion editor, Emilio Palacio, the lawsuit was meant to serve as an example to other journalists of the consequences that result from publishing anything critical of the Ecuadorian government. Palacio also believes the lawsuit was motivated by financial gain since he believes the award money will go straight into President Correa´s pockets.
Jose Miguel Vivanco, the Americas director for Human Rights Watch, shared in El Universo´s outrage, stating that the decision constitutes a "major setback for free speech in Ecuador." Reporters Without Borders, a France-based media watchdog, also accused the decision of being a contradiction to the freedom of expression laws set in place by the Inter-American Court of Human Rights.
Alembert Vera, President Correa's attorney, however, refuted the accusations and said the motivation behind the lawsuit was simply a "defense of honor" and that all the award money would go straight to the Yasuni-ITT environmental project. He plans to appeal the decision and seek the full $80 million dollars in damages he initially sought.
With international support behind them, El Universo´s lawyers are also appealing the decision, claiming that they were denied the ability to present evidence to support their case.
For more information, please see:
CNN – Ecuadorian paper reacts to libel ruling with nearly-empty front page – 22 July 2011
Univision – Ecuador libel case, jailing, draws worldwide criticism – 21 July 2011
The Wall Street Journal – Ecuador President Correa Wins Lawsuit Against El Universo Newspaper – 20 July 2011
CNN – Libel case pits Ecuador's president against newspaper – 19 July 2011
Author:
Impunity Watch Archive