By: Samantha Netzband
Impunity Watch Reporter, Africa
NAIROBI, Kenya –A Kenyan court recently ruled that anal testing to determine sexual orientation is constitutional.  The anal testing is typically done alongside HIV and Hepatitis B testing without the consent of the party that is being tested.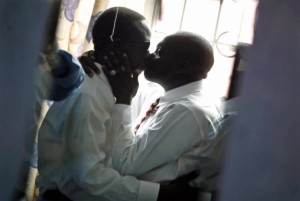 Two men kiss an act that would be forbidden in Kenya where homosexuality is a crime. (Photo Courtesy of International Business Times)
The ruling comes from the case brought forth by two men who were tested against their will at Madarkaka Hospital.  The two men were arrested in February 2015 on suspicion of having sex.  In Kenya, gay sex is illegal and punishable by a prison sentence of up to 14 years.
Mombasa high court judge Mathew Emukule said in his ruling "I find no violation of human dignity, right to privacy and right to freedom of the petitioners."  Emukule also said that if the men didn't want to undergo the tests their attorneys should have sought injunctions before the tests were administered. Emukule's opinion is in direct opposition to the arguments of the petitioner that argued anal examinations are "cruel, inhuman, and degrading treatment that can often amount to torture."
With the ruling happening less than a week after the attack at an LGBTQ club in Orlando, Florida the LGBTQ rights community has vowed to appeal.  Eric Gitari, the executive director of the Kenyan National Gay and Lesbian Human Rights Commission (KNGLHRC), explained that rulings like the one delivered by Emukule make it more difficult to encourage the LGBTQ community to come forward to have their rights affirmed.  Encouragement is difficult when courts instead affirm violations of LGBTQ people's rights.
KNGLHRC questions whether the testing is a good use of the countries scarce resources.  According to Human Rights Watch the forced anal exams are rare in Kenya, but are used in other countries such as Cameroon, Egypt, Tunisia, Turkmenistan, Uganda and Zambia.  Human rights groups from KNGLHRC to Amnesty International believe that the ruling will set a precedent arresting people on suspicion of being gay and being subject to the invasive tests.  Until the appeals are heard anal exams will still be allowed.
For further information, please see: 
Human Rights Watch — Kenya: Court Upholds Forced Anal Exams — 16 June 2016
Inquisitr — Kenya Court: Forced Anal Exams to Determine Sexual Orientation are Legal — 17 June 2016
National Post — I find no violation of human dignity': Kenya upholds use of anal probes to test for gay sex, a jailable offence — 16 June 2016
USA Today — Kenyan court: Anal exams to test sexual orientation are legal — 16 June 2016
Author:
Samantha Netzband