By: Jessica Ties
Impunity Watch, Asia
JAKARTA, Indonesia – Twelve Indonesians who played a role in a mob attack that killed three members of a minority Muslim sect were sentenced to serve light sentences ranging from three to six months.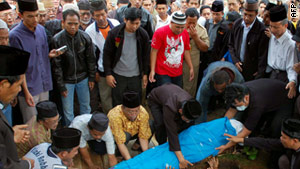 The attack occurred on February 6 when a mob of people armed with knives and stones attacked about 25 Ahmadiyah members. The attack was caused by the mob's opposition to the presence of the sect, which many Muslims consider to be heretical in their beliefs, and they demanded that they end their activities.
During the trial of the twelve attackers, victims of the attack were not permitted to testify against their attackers. One victim, Ahmad, expressed his anger by stating, "Seeing their sadistic behavior toward us, chopping up bodies, kicking, hitting and stabbing us. Some of them (victims) were even burned. We didn't get call. They only called defense witnesses."
Video footage of the attack showed a crowed of approximately 1,500 people attacking a handful of members of Ahmadiyah with clubs, rocks and machetes. Attackers were also seen stabbing and beating the bodies of the dead as they lay in the street. The video also revealed the presence of police officers who refused to take any action against the attackers as they beat and mutilated Ahmadis.
While various charges were brought against the attackers, none of them were charged with murder and while the most serious crime that the attackers were charged with allowed a maximum penalty of nine years, the prosecutors only demanded a maximum sentence of seven months.
One of the attackers, Dani bin Misra,  who was caught on video smashing in the skull of one of the victims with a rock was sentenced to only three months in jail for public incitement, destruction of property and an attack that led to death.
Another attacker, Idris bin Mahdani only received a five and a half month sentence for illegal possession of a sharp weapon and involvement in the attack despite the fact that he was the individual who led the mob to the home where the followers of the sect were gathering.
While Indonesia has generally been regarded as a religiously tolerant nation, in recent years extremists have become increasingly vocal in their views.
The Indonesian government issued a ministerial decree in 2008 that prohibited the sect from spreading its beliefs. This decree has led to attacks on sect followers by individuals who take the law into their own hands.
Human Rights Watch has called on Indonesia to revoke the 2008 decree and has called the light sentences given to the twelve attackers a "setback for religious freedom in Indonesia."
For more information, please see:
The Jakarta Post – Muhammadiyah Chairman 'Hurt' by Cikeusik Punishment – 29 July 2011
MSNBC – No Justice for Victims of Islamic Sect Attack – 29 July 2011
CNN – Indonesia Under Fire for Light Sentences in Islamic Sect Attack – 28 July 2011
The New York Times – Rights Advocates Criticize Light Sentences in Sectarian Killings in Indonesia – 28 July 2011
Author:
Impunity Watch Archive