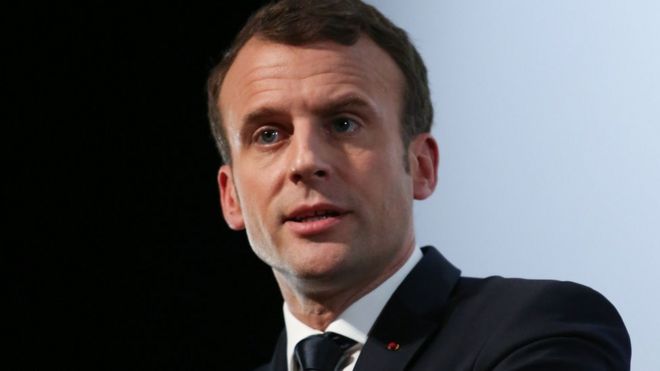 By: Sara Adams
Impunity Watch News Reporter, Europe
PARIS, France – French President Emmanuel Macron warned the Syrian government on February 13th that France "would strike" if evidence was found that Syria used chemical weapons on its own people.
Chemical weapons are a severe violation of international treaties. Yet the United States government, along with several others, determined that the cause of a 2013 attack in Damascus was caused by chemical weapons.
The Syrian government has denied any use of chemical weapons against its citizens.
President Macron has previously stated that Syrian use of chemical weapons is a "red line" for France.
Last May, President Macron stated that this "red line", if crossed, would "draw an immediate response" from France.
More recently, President Macron reaffirmed this line in a phone call with Russian President Vladimir Putin. In this phone call, the French President reaffirmed his concerns over Syria's alleged use of chlorine gas on its citizens.
Reaffirming the "red line" to news reporters, President Macron said, "If we have proven evidence that chemical weapons proscribed in treaties are used, we will strike the place where they are made."
Despite these statements, many have criticized France for failing to take a hard stance against the Syrian government's atrocities.
Some members of the United Nations Security Council, of which France is a member, have felt that the European nation has not established whether they would view chlorine gas as a "chemical weapon."
The "White Helmets", Syria's Civil Defence force, urged President Macron to "stop talking" and "take real action" against Syria's government.
However, President Macron's government remains indecisive. Speaking to reporters, the President stated that French intelligence had yet to find evidence that Syria had used illegal chemical weapons during its civil war.
France's foreign minister sought to clarify President Macron's remarks on February 14th, stating that France would only retaliate against Syria if the chemical attacks were "lethal" and "carried out by government forces."
Calls for a cease-fire in Syria by France and the United Nations have ramped up in the past several months.
Yet as the fighting continues, so too does Syria's humanitarian crisis. The future rests unclear.
For more information, please see:
Reuters – France says Syria red line only crossed if gas attacks 'lethal': minister – 14 February 2018
BBC News – France's Macron threatens Syria strikes if chemical weapon use proven – 14 February 2018
The Telegraph – Macron: 'France will strike' if use of chemical weapons in Syria is proven – 13 February 2018
Reuters – 'France will strike' if proven chemical bombs used in Syria: Macron – 13 February 2018
Deutsche Welle – Macron: France will 'strike' if proven using chemical arms – 13 February 2018
Author:
Impunity Watch Archive