By: Greg Donaldson
Impunity Watch Reporter, Asia
KUALA LUMPUR, Malaysia– At least 1600 people were arrested last Saturday after police officers rushed to break up a protest seeking electoral change. Police ended the protest by firing tear gas and water cannons. While injuries were low, the Daily Star reports that a 59-year-old taxi driver died during the rally as he attempted to flee from tear gas. The police, however reported that the man was a bystander whom died of a heart attack based on reports by the Jakarta Globe.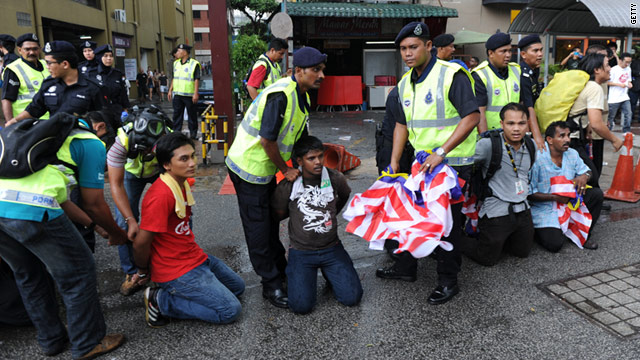 The protest was organized by a coalition of opposition groups known as Bersih 2.0. The government had already declared Bersih an illegal organization and anyone found with any Bersih-related materials could be arrested says CNN.
Prior to the protest, opposition leader Anwar Ibrahim wrote on his blog:
"Our reason for gathering is pure and simple — to demand that the electoral roll be cleaned, that the postal voting system be reformed, that indelible ink be used, a minimum 21 day campaign period be instated, free and fair access to media for all be provided, public institutions be strengthened, and for corruption as well as dirty politics to be stopped."
The Malaysian Bar Council said in a report Tuesday that its monitors witnessed the police using tear gas and water cannons "arbitrarily, indiscriminately and excessively" and "beating, hitting and kicking the rally participants."
The protesters, it said, acted in a "peaceful and calm manner," except for an incident in which "one or more" people threw plastic bottles at a television reporter reports the New York Times.
On Wednesday, Malaysian Prime Minister Najib Razak defended the actions of his government. "Public order is very important in Malaysia because if we allow for street demonstrations, there's no end to it, there will be another group that wants to demonstrate." Mr. Najib also explained that while the government had banned protests in the capital city, the protestors had the option to hold their event outside of the capital city but refused to do so.
Najib accused opposition leader Anwar Ibrahim of planning the rally and manipulating rally organizers to gain support for his campaign to become the new prime minister says the Daily Star.
On Thursday, the Human Rights Commission of Malaysia announced that it planned to examine police conduct during the protest. Muhammad Sha'ani Abdullah, a member of the commission, said they decided to act after receiving complaints from the public, protest organizers, and rights groups. "We are also acting on media reports and our own observations during the rally," said Abdullah in a New York Times report.
Saturday, US State Department Spokesman Mark Toner described concerns over the events last weekend. "Obviously, we stand for… the right for people to freely express their democratic aspirations and express their views freely."
Toner stressed that the US would stand up for Malaysians' "universal right" to assemble but stressed that it was the responsibility of protesters here to do so in a non-violent manner reports the Malaysian Insider.
For more information, please see:
Sydney Morning Herald —Condemn Malaysian crackdown, US urged – 18 July 2011
BBC — US concern at Malaysia crackdown on protests – 14 July 2011
Malaysian Insider — US voices concern over Bersih crackdown – 14 July 2011
New York Times — Malaysian Prime Minister Defends Muzzling of Protests – 14 July 2011
CNN — Malaysian authorities crack down on protesters – 12 July 2011
Daily Star — Malaysia defends protest crackdown – 11 July 2011
Jakarta Globe — Malaysian PM Defends His Regime's Protest Crackdown – 10 July 2011
Author:
Impunity Watch Archive