By Heba Girgis
Impunity Watch Reporter, Africa
BAMAKO, Mali—The French and Malian forces, working together, pushed forward to the desert town of Timbuktu today, as the two-week-long French mission began gathering momentum against the Islamist extremists, who have been in control of the region for more than nine months.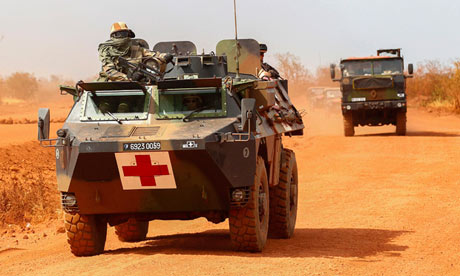 This move toward Timbuktu comes just a day after the French army announced that they had succeeded in seizing the airport and a key bridge in Gao, which is one of the other northern provincial capitals currently under the control of the Islamist insurgents. Diarran Kone, a spokesman for Mali's Defense Ministry said, "Since yesterday the Malian army has been in Gao, controlling the airport." "Police actions are under way," he continued.
Gao is the largest city in northern Mali. It was seized more than nine months ago, by a mixture of al-Qaida linked Islamist fighters. This group of fighters turned the city into a replica of Afghanistan under the Taliban. The group also has close ties to Moktar Belmoktar, an Algerian national who has been operating in Mali for a long time, and claimed responsibility for the attack on a BP-operated natural gas plant in Algeria.
Gao is one of the main strategic points and represented the biggest move yet in this battle to retake the northern half of the country. The French Defense Ministry spokesman, Colonel Thierry Burkhard, said that Malian, Nigerian and Chadian troops were now deploying in Gao after the French special forces took the airport yesterday. "The taking of control of Gao, which has between 50,000 and 60,000 inhabitants, by Malian, Chadian and Nigerian soldiers, is under way," he noted.
However, in Paris, a defense ministry official clarified that the city of Gao has not yet been completely liberated. While a lot of progress has been made, the process of freeing the city still continues.
Yesterday, Saturday, January 26, 2013, the United States said that it would provide aerial refueling for France's warplanes. This decision increases American involvement, which until yesterday had consisted only of transporting French troops and equipment, while also providing some intelligence, including but not limited to satellite photographs.
Since France began its operation, the insurgents have retreated from three small towns in central Mali: Diabaly, Konna, and Douentza. The Islamists continue to control much of the north. This conflict will now dominate the African Union summit in Ethiopia on Monday.
For further information, please see:
The Guardian – Mali Conflict: French and Malian Troops Begin Restoring Control in Timbuktu – 27 January 2013
The New York Times – French Troops in Mali Push On to Timbuktu – 27 January 2013
The Wall Street Journal – In Mali, French Troops Step Up Role – 27 January 2013
The Washington Post – French Forces Press Ahead Toward Malian Town of Timbuktu – 27 January 2013
Author:
Impunity Watch Archive