By Adom M. Cooper
Impunity Watch Reporter, Middle East
GAZA CITY, Gaza–Just hours after Egypt had been mediating a truce between Israel and Palestine, Israel has launched a fresh air strike on Gaza, east of Rafa. Seven members of Islamic Jihad's armed wing were killed, bringing the Palestinian death toll to 11. The Islamic Jihad movement in Gaza had reported that it had accepted a ceasefire prior to the attacks. The recent spike in violence came as funerals were being held for two Palestinians killed in Israeli airstrikes overnight.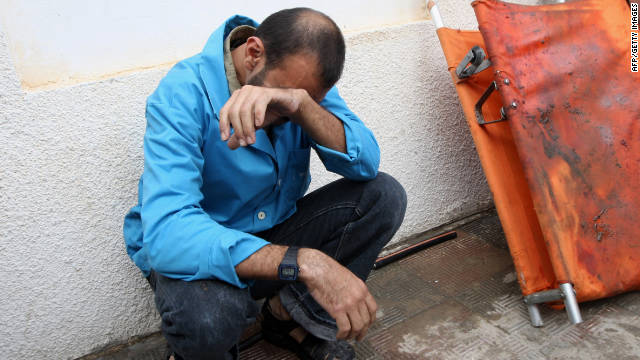 On Saturday 29 October 2011, at least 10 people were killed in Gaza and southern Israel.
Hamas, the Islamic militant group that controls and governs Gaza, has made efforts to enforce the agreed-upon ceasefire since the latest round of cross-border airstrikes and rocket attacks in August, which saw both sides endure casualties. The confrontation in August was precipitated by a deadly attack north of Eilat that claimed the lives of eight Israelis. In that situation, the attackers crossed the border into Israel from Egypt. But Israeli officials claimed that the attack was organized and facilitating by another militant group in Gaza, the Popular Resistance Committees, and immediately eliminated its senior commanders in an airstrike.
Abu Ahmad, the spokesman for the movement's armed wing Al-Quds Brigades, shared these sentiments about the developing situation.
"The Islamic Jihad has responded positively to the truce effort, while it reserves its right to react to any aggression by Israel."
Ahmad also claimed that several of the dead were senior commanders of the organization. They included Ahmed al-Shiekh Khalil, a leader of one of the Islamic Jihad brigades. Khalil had four brothers who were activists in the movements. All of them were killed in operations conducted by the Israeli army.
Israeli Prime Minister Binyamin Netanyahu placed the onus on Hamas, the governing body in Gaza, for the violence that has occurred and expressed Israel's resolve to defend itself.
"The Hamas rules Gaza, he is responsible for Gaza, he is responsible for preventing the firing from Gaza, and for keeping the calm in Gaza, even if the attackers are the Islamic Jihad. It is not worthwhile for anybody to test our determination to invoke the government's defense principles. We will prevent every attempt to shoot at Israel and we will hurt everyone who nevertheless succeeds at doing so. We have no desire to see deterioration in the situation, but will defend ourselves according to these principles."
An Israeli military official reported that on Sunday 30 October 2011, three rockets were fired at its territory after the ceasefire deadline had passed. The official claimed that two of the rockets were intercepted by Israel's Iron Dome missile defense system and the other crashed into southern Israel, but did not result in any casualties or substantial damage.
Al-Jazeera correspondent Cal Perry, who is reporting from Al Shojaya in eastern Gaza, shared this viewpoint on what is currently happening between the two Middle Eastern nations.
"We heard Islamic Jihad spokesperson saying that they were going to give 48 hours both to Egyptians and the Israelis to work out some kind of an agreement. But as late as Sunday afternoon, there has been further air strike bringing into question if anyone is going to be able to stop the recent spate of violence."
This latest flare-up between the ever-feuding nations came less than two weeks after the return of a captured Israeli soldie, Sgt. First Class Gilad Shalit, who had been held incommunicado in Gaza for more than five years by Hamas. Israel had freed 477 Palestinian security prisoners in exchange for the soldier and is set to release some 550 more prisoners in a deal that has significantly bolstered Hamas's stance.
Hamas is reportedly largely committed to the rather fragile ceasefire that first came into effect after Israel's three-week military offensive in Gaza that came to a close in January 2009. It is alleged that smaller groups such as the Islamic Jihad and the Popular Resistance Committees are not committed to a ceasefire.
UN Secretary-General Ban Ki-moon condemned rocket fire from Gaza and called for it to stop, according to CNN.
"We hope that both parties will fully respect the calm as brokered by Egypt and urges maximum Israeli restraint following the killing of a reported 10 alleged militants."
The international community can keep imploring the two sides to come to a truce that has clout and can last. But until that actually occurs, civilians will be the ones who really pay the price and will continue to do so with no foreseeable end in sight.
For more information, please see: 
Al-Jazeera – Israel Launches Fresh Air Strike In Gaza – 30 October 2011
BBC – New Israeli Air Strike Into Gaza After 'Ceasefire' – 30 October 2011
CNN – Islamic Jihad Announces Gaza Cease-Fire – 30 October 2011
The Guardian – Gaza Militants Agree to Truce After Nine Killed in Israeli Air Strikes – 30 October 2011
Reuters – Gaza Violence Simmers After Truce Announced – 30 October 2011
NYT – Israeli Drone Strike Kills Militants In Southern Gaza – 29 October 2011
Author:
Impunity Watch Archive