By Jenilyn Brhel
Impunity Watch Reporter, Europe
LINCOLNSHIRE, England – A family of eleven has been sentenced to a total of approximately 80 years in prison for administering a modern slavery ring on their property for decades.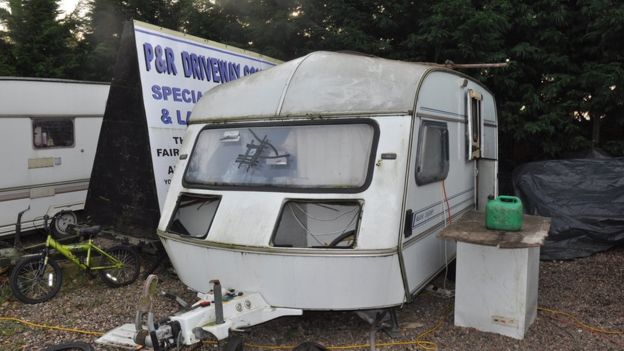 For 26 years, the Rooney family, who ran a driveway resurfacing company, targeted vulnerable men on the streets and in shelters in Nottinghamshire, Lincolnshire, and London, promising them money, accommodations and food in exchange for work. Many of the victims, whose ages ranged from 18 to 63, were homeless, had mental disabilities or drug and alcohol problems.
When the men arrived to the worksite, they were forced to live in small caravans without running water, plumbing or heat.
In addition to the dilapidated conditions, the men worked seven days a week, from dawn to dusk, in all kinds of weather. They were fed poorly or sometimes not at all. They were also subjected to beatings and denied medical care for their injuries and illnesses. One man, whose captivity spanned 25 years, was forced to dig his own grave.
"Your victims had reached a position where they were cowed into submission. Any resistance, they knew, was futile. It would have been met by you recruiting other family members and delivering more violence," Judge Thomas Spencer told the Rooney family.
While the men they abused lived in squalid conditions, the family lived extravagantly, driving expensive cars and taking lavish vacations. Judge Spencer, who sentenced the family, called the abuses "akin to the gulf between medieval royalty and the peasantry."
The Director of Her Majesty's Inspectorate of Constabulary's fraud investigation unit, Simon York, said: "This was a truly appalling case. These people lived a life of luxury by exploiting and abusing highly vulnerable individuals. They stripped them of their humanity, forcing them to live and work in terrible conditions."
Judge Spencer also warned that abuse of this kind could be happening nationwide on a "shocking scale."
Detectives said last month that the number of victims of modern slavery and human trafficking in the United Kingdom is currently estimated to be in the tens of thousands.
There are currently over 300 policing operations in the United Kingdom working to identify and prosecute cases of modern slavery.
"The severity of these crimes is underlined by the sentences imposed by the judge, Chief Superintendent Chris Davison, Head of Crime for Lincolnshire Police, said of the case. "The victims will never get the years back that were taken away from them, but I hope this provides them with some comfort that justice has been served and demonstrates that we will do everything in our power to try and stop others suffering in the ways that they did."
For more information, please see:
BBC – Rooney Traveller Family Jailed for Modern Slavery Offences – 12 September 2017
The Guardian – 11 Family Members in Lincolnshire Jailed in 'Chilling Slavery Case' – 12 September 2017
The Guardian – Modern Slavery at UK Traveller Site may be tip of Iceberg, Warns Judge – 13 – September 2017
Independent – Rooney Family Behind Modern Slavery Ring in Lincolnshire Jailed for Total of 79 Years –  12 September 2017
Independent – Slaves on our Streets: Why London is a Global hub for Modern Slavery 13 September 2017
The Irish Times – 11 Members of Traveller Family Jailed in UK Slavery Case – 12 September 2017
Metro – Millionaire Family who Kept 18 Homeless men as Slaves Jailed for 80 Years – 13 September 2017
Author:
Impunity Watch Archive