By Tamara Alfred
Impunity Watch Reporter, Africa
ABIJAN, Ivory Coast – On Tuesday, the United Nations (UN) refugee agency reported that more than 300,000 people are still displaced from their homes as a result of ongoing violence two months after the political crisis that arose after the disputed November elections was solved.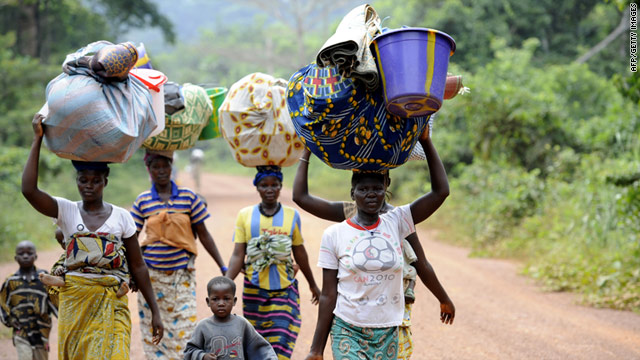 The UN reported that most of the displaced are living in camps or with host families in the western part of the country.  Many of the displaced people were either victims of violence or witnessed other being slashed, burned or killed, according to Xavier Simon, the head of the Ivory Coast Doctors Without Borders.
"People tell us they can't eat or sleep properly and that they suffer from anxiety and heart palpitations," said Simon.  "Terrified of further violence or revenge attacks, many choose to remain in hiding or as refugees."
According to Doctors Without Border, displaced people are at further risk because they are in areas with food shortages and threats of disease, all heightened by the rainy season.
At the height of the crisis, approximately 1 million people were displaced and hundreds killed.  The violence began when Laurent Gbagbo refused to cede power to the newly-elected president, Alassane Ouattara.  Both parties have been accused of atrocities in the violence.
"Many of the dead are buried in mass graves," said Melissa Fleming, the U.N. refugee agency spokeswoman.  "Over 500 houses and a pharmacy were destroyed in five villages.  As estimated 17,000 people are displaced in that region, including an unknown number reportedly still hiding in the forest."
On Wednesday, the head of the Human Rights Division of the UN Mission in Ivory Coast called for immediate and impartial investigations into reports of attacks by the armed forces.  On Thursday, the Ivorian government responded by announcing that it had formed a commission to investigate the crimes.
President Ouattara has repeatedly promised no mercy for human rights abusers regardless of their political party.  However, on Wednesday, Human Rights Watch released a statement saying that no one from Ouattara's camp had yet to be arrested.  Those currently under investigation are all former officials of the government of Laurent Gbagbo.
UN High Commissioner for Human Rights Navi Pillay said in a statement, "We need concerted action designed to break the cycle of impunity, bring perpetrators to justice and rehabilitate victims in their rights and dignity."
More than 100,000 Ivorians are estimated to have sought refuge in Liberia.
For more information, please see:
Reuters AlertNet – Ivory Coast: Fear persists even after violence subsides – 17 June 2011
CNN – Ivory Coast announces commission to investigate post-election crimes – 16 June 2011
CNN – 300,000 still displaced in Ivory Coast – 14 June 2011
Author:
Impunity Watch Archive