By Justin Dorman
Impunity Watch Reporter, Middle East
DOHA, Qatar –  A week ago, the poet Muhammad Ibn al-Dheeb al-Ajami was handed a life sentence after a five-minute hearing in which no law was allegedly broken, Ajami was not present, and his lawyer was kept from entering any defense. Najib al-Nuaimi, Ajami's attorney claims that the judge made the whole trial secret.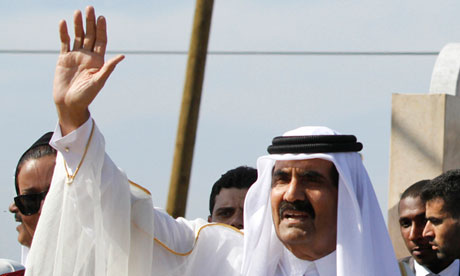 Ajami was arrested in November 2011 and ultimately convicted for "insulting" Hamad bin Khalifa Al Thani and "inciting to overthrow the ruling system." These claims came after a video was posted on the internet of Ajami reciting his poem, Tunisian Jasmine.
The poem extols Tunisia's uprising which kicked off the Arab Spring. One line of the poem stated that, "we are all Tunisia in the face of repressive coteries."The poem further criticizes governments who restrict its people's freedoms.
Qatar's authorities interpreted the poem as criticizing the emir for not doing his job properly and encouraging attempts at a coup. Ajami contested this claim to the police whom arrested him, stating that if they had continued to read the poem they would see that he was thanking the emir.
Nevertheless, the police had Ajami arrested, and he's been detained in solitary confinement since November 17, 2011.
Qatar holds itself out as a defender of human rights. It is a member of the Arab Charter on Human Rights and in Article 47 of Qatar's constitution it guarantees freedom of expression. Furthermore, Qatar made efforts to establish a center for media freedom.
Despite the facade that Qatar is a safe haven for freedom of expression, Article 134 of Qatar's penal code carries a five-year sentence for "anyone who challenged by any public means the exercise by the Emir of his rights or authorities or criticizes him."Based on the sentence Ajami was given, it seems much more likely that he was convicted under Article 130 for trying "to overthrow the regime of the country."
Deputy Middle East director at Human Rights Watch, Joe Stork, has said that "Qatar, after all its posturing as a supporter of freedom, turns out to be determined to keep its citizens quiet."
He adds, "Ibn al-Dheeb's alleged mockery of Qatar's rulers can hardly compare to the mockery this judgment makes of the country's posture as a regional center for media freedom."
Al-Nuaimi has already filed an appeal, and Ajami's case will be heard on December 30th. In the meantime, there will be pressure on the emir to pardon Ajami.
For further information, please see:
Democracy Now – Qatari Human Rights Official Defends Life Sentence for Poet who Praised Arab Spring Uprisings – 7 December 2012
Crescent – Muhammad ibn al-Dheeb al-Ajami and Sattar Beheshti: Agenda Driven Reporting – 4 December 2012
Human Rights Watch – Qatar: Poet's Conviction Violates Free Expression – 4 December 2012
Guardian – Qatari Poet Jailed for Life After Writing Verse Inspired by Arab Spring – 29 November 2012
Author:
Impunity Watch Archive