By Karen Diep
Impunity Watch Reporter, Asia
NEW DELHI, India – Today, New Delhi authorities arrested Baba Ramdev, a popular yoga instructor and Hindu talk show host, for his participation in an anti-corruption protest near Parliament.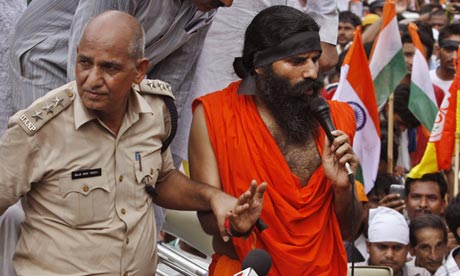 "Remove the Congress party and save the nation," urged Mr. Ramdev amongst thousands.
Mr. Ramdev and his supporters marched in protest of the government's failure to control corruption and retrieve black money stashed away in foreign countries.
According to the Times of India, a Congress representative declared the protest a stunt.
"Lok Sabha polls will be in 2014 and 99 per cent could be in 2013.  This protest is to ensure that no dishonest person enters Parliament.  Such people should be boycotted.  We do not have a political agenda," shared Mr. Ramdev.
After his detainment, authorities moved Mr. Ramdev to a bus expected to transport the yoga instructor to a Bawana police station located outside of New Delhi.  However, a large number of Mr. Ramdev's supporters climbed on the bus, delaying its movement.  In the end, authorities ordered ninety buses to round up the protestors.
"We've deployed adequate security for Ramdev's march.  Everything should be in control," said a New Delhi police spokesman to Reuters.  However, he refused to comment on whether Mr. Ramdev received permission for the protest.
"Delhi Police is a puppet in the hands of the Central government.  We will not do anything that disrupts peace.  We wanted to march towards Parliament in a peaceful manner to make our voices heard," said Mr. Ramdev.
For further information, please see: 
The Guardian – Indian TV star Baba Ramdev arrested at anti-corruption walk – 13 August 2012
New Delhi – Ramdev detained by police, fails to reach Parliament – 13 August 2012
News of India – Baba Ramdev taken into preventive custody – 13 August 2012
Reuters – Baba Ramdev's detention lifted, protest continues – 13 August 2012
Author:
Impunity Watch Archive