By Portia K. Skenandore-Wheelock
Impunity Watch Reporter, North America
NICARAGUA — A $50 billion, 172-mile canal is expected to be built by a Chinese firm across Nicaragua with the purpose of connecting the Caribbean Sea with the Pacific Ocean. The Panama Canal already accomplishes this but Nicaraguan officials say the canal is crucial to increasing global trade and the new canal can accommodate larger tankers, which the Panama Canal cannot, even with its current expansion. The proposed canal would be three times as long as the Panama Canal and twice as deep. The Nicaraguan government estimates that the revenues created by the project will be almost five times the country's GDP and will pull more than 400,000 people out of poverty by 2018. The new canal would be an alternative to the Panama Canal, which is 102 years old and handles five percent of global maritime trade. The deal between Nicaragua and Wang Jing of HKND Group would give the firm consortium rights to operate the canal for 116 years. The company broke ground in 2014 but has made little progress since. There are suspicions that the firm may not have enough money to complete the project. There are also concerns that there may not be enough transport demand to support a second canal, especially one with numerous geographical barriers.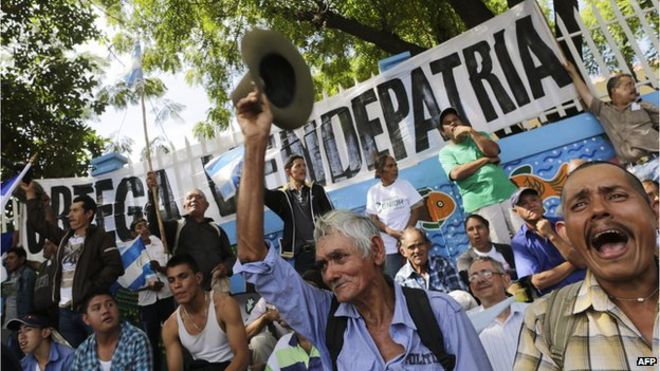 Nicaraguan farmers, environmentalists, and human rights groups are protesting construction of the canal. A coalition of farmers gathered 28,000 signatures in opposition to Law 840, which grants concession for the canal project. Both indigenous and peasant farmers are concerned the canal will ruin their crops, require evictions, and destroy the graveyards where their ancestors are buried. Rural residents like 39-year-old Francisca Ramirez are coming together to defend their rights, "I will not allow this area to be destroyed by a project which will only benefit a few, but will harm a vast number of people."
The International Federation for Human Rights (FIDH) says the canal is a threat to people, forests, and to Cocibolca Lake, Central America's main fresh water reserve. So far, up to 120,000 peasants have no place to relocate to and they were given insufficient compensation for being forced off their land. President of FIDH Dimitris Christopoulos said, "Respecting nature and the rights of rural communities is not a luxury. It's a duty. These projects will have a dramatic impact on the environment and on human rights. It is unimaginable to sell off territory as such. The government must back out." The report cites environmental problems with hydrocarbon pollution, salinity, and turbidity. The report also says the canal deal breaches Nicaragua's constitution and is denying citizens their rights to property, adequate housing, food, and water.
For further information, please see:
Amnesty International – "We Have Hope, we Have Human Rights, we will win This Fight" – 16 October 2016
BBC – Nicaragua Canal Scheme 'Must be Dropped' – 14 October 2016
Humanosphere – Nicaragua Canal: Rights Groups Protest Project That may Have Already Failed – 17 October 2016
Sky News – Nicaragua Canal Poses 'Unimaginable' Threat to Human Rights – 14 October 2016
Author:
Portia Skenandore-Wheelock