By Brian Lanciault
Impunity Watch Reporter, Asia
PYONGYANG, North Korea– The United States' top envoy to North Korea urged Pyongyang to free two detained American citizens. The call came after reports this week that in addition to holding a U.S.-Korean Christian missionary, Kenneth Bae, North Korea detained an 85-year-old U.S. citizen, and former Korean War veteran.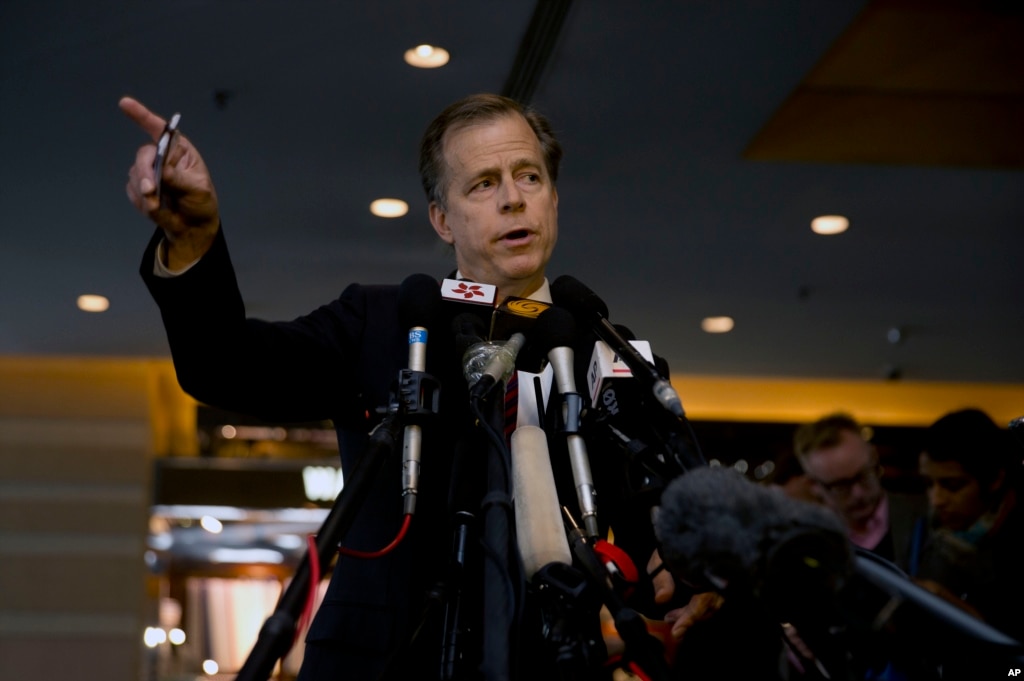 According to media reports, Merrill Newman was taken from a plane late last month as he was about to depart from North Korea.
The U.S. government has not specifically confirmed the detention, citing privacy concerns, and North Korea has issued no comment on the matter.
In an interview with reporters in Beijing Thursday morning, U.S. Special Representative for North Korea, Glyn Davies, urged Pyongyang to exercise deep consideration about the two cases, noting the fate of Americans abroad was a critical concern of U.S. foreign policy.
"We of course are calling on North Korea, as in the case of Mr. Kenneth Bae, who has now been there for over a year, to resolve the issue, and to allow our citizens to go free," Davies said.
The envoy is touring Asia this week amid a renewed push to restart the stunted talks on ending North Korea's nuclear weapons programs.
He did not draw a clear line between the cases and the international community's broader efforts. The cases are among several examples of issues frustrating the resumption of nuclear talks with the North.
Davies says his talks in Beijing with his Chinese counterpart, Wu Dawei, were fulfilling. But there was no strong signal that a return to the six-party talks that include the two Koreas, China, Japan, Russia and the United States would resume any time in the near future.
"This really is up to North Korea," noted Davies. "It's North Korea who seems not seriously interested in making meaningful progress on the nuclear issue. And until we see a manifestation of North Korean seriousness, it's very difficult for me to know what the prospects are for getting back to Six Party."
Recently North Korea has been talking about restarting some of its nuclear programs, while at the same time it has suggested new proposals for its return to the six-nation talks on ending atomic programs. The North has also been stressing a dual policy of nuclear and economic development.
North Korea pulled out of the six-nation talks in 2009 and says it is willing to return to the table as long as there are no pre-conditions.
In the past, Pyongyang was accused of using foreign detainees as bargaining chips in negotiations with Western countries over its controversial nuclear weapons program.
North Korea has detained at least six Americans since the talks ended in 2009. While some were given harsh prison sentences, all have subsequently released. Generally their release followed visits to the North by high-ranking former or current U.S. officials.
Merrill Newman's son told CNN that it was his father's "life-long dream" to see the North and its culture, after serving in the South as a U.S. infantry officer in the 1950s. He said his father arranged the trip through a North Korea-approved Chinese tour company and had "all the proper visas."
Newman's detention comes approximately one year after the arrest of Kenneth Bae, who was detained last November. He was subsequently convicted of "state subversion" and sentenced to 15 years hard labor. He was detained after entering North Korea as a tour operator.
For more information, please see:
Time– North Korea Detains 85-Year-Old American Korean War Vet–21 November 2013
Voice of America–US Envoy Urges N. Korea to Release Detained Americans–21 November 2013
CNN–California man pulled off plane in North Korea, detained, son says–21 November 2013
San Jose Mercury News–Palo Alto man, 85, removed from plane, detained in North Korea–20 November 2013
Washington Post–American vet, 85, detained in North Korea–21 November 2013