By Reta Raymond
Associate Special Features Editor
This note series has become awfully dark, which doesn't accurately reflect my experience in Uganda.  Winston Churchill called Uganda the "Pearl of Africa," and I couldn't agree more.  There is the Nile, the lush jungles, and most importantly the rich, warm culture.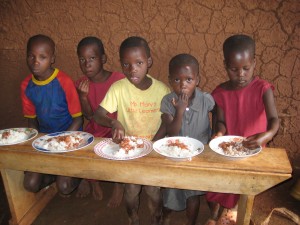 When I was descending upon Entebbe, Uganda, it was around two in the morning.  I looked down on the small city and it looked like a display of fireworks on a dark sky.  There is no grid system, so the lights on the ground were clusters of small lights.  It was beautiful.
I had arranged to be picked up by the people from the orphanage whose guesthouse I was going to stay at, but I was a little nervous because I hadn't received much of a confirmation email.  It was also the middle of the night, and I was 8,000 miles away from home.  However, by the time I left my connection in Istanbul, I had met a handful of Ugandans who gave me their phone numbers, some of whom even knew either the law firm where I was going to intern or the orphanage whose guesthouse I was staying at, Sanyu Babies Home.  It was clear that the warmth of the Ugandan culture has no boundaries.
Fortunately, Ronnie, Alice, and baby Elijah met me at the airport; they were a very sweet, young family who worked and lived on the Sanyu Babies Home compound. Sanyu is the oldest orphanage in Kampala, housing around fifty children under the age of four. Sanyu operates a guesthouse next door to where the babies live to generate income.
Sanyu was an ideal place to stay.  Not only was my accommodation price a direct donation to the orphanage next door, if I was free for the weekend, or wanted a break from my work, I could go next door and play with the kids!  I lived with some really interesting people at Sanyu, as most people came to the guesthouse either to volunteer at the orphanage or to support the orphanage by staying at the guesthouse. Many of the residents worked on projects outside of Sanyu, so we swapped ideas and visited other orphanages together.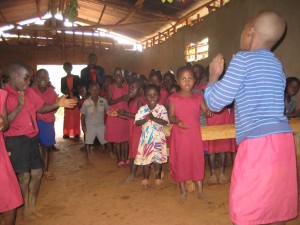 Sanyu was also very safe, with high fences encompassing the compound, a ten-foot solid metal gate, and guards who patrolled with bows and arrows at night. The guards used bows and arrows because it would deter potential thieves, because at night they couldn't tell where the arrow came from.  The guesthouse could accommodate around fifteen, but the recent "Walk to Work" protests scared away many international volunteers.  These protests were to contest high commodity and fuel prices and were met by the police with live ammunition, tear gas, and rubber bullets. At least ten civilians were killed, including at least one toddler and one pregnant woman who was shot in the stomach. I lived with only one or two other American girls for the first month until the situation stabilized.
During the first week I was in Uganda and before starting work, I walked around Kampala, and I felt very, very far from home.  People drove on the left side of the street, had no sympathy for pedestrians, and ignored the few stoplights.  Also, I knew that I would stick out in Uganda—I'm a blond, white girl—but I wasn't expecting to be called out on the street for it. People would call out "mzungu" or "mzungu, how are you?" I had no idea how to react. "Mzungu" literally translates as "white person," but it is used to describe all non-Africans: Even my half-South African friend and a Pakistani woman were called "mzungu." Therefore, it was more of a recognition that we were western rather then a connection to our skin color.  So I followed other travelers' leads and just ignored the comments at first.
After a few weeks passed, I learned how to, as one woman articulated, "navigate my privilege."  I learned some Lugandan, like how to say, "Hi, black person" and people would just laugh with me.  I'd speak to my motorcycle taxi drivers in Lugandan, rebutting their outrageous mzungu-fare quotes with "banange ssebo!"  That translates to "that's crazy, sir," which always made the groups of drivers erupt with laughter.  I took a nod from the local culture and made people laugh right away, and any walls came down pretty quickly.
However, a couple months into my trip, I told my Ugandan friend about how I longed to blend in.  She explained that Uganda is a small country and everyone just talks to each other.  She thought that America was so big and that made people scared of each other.  I partially agreed, but told her that in America if someone yells "white girl" at me, I wouldn't exactly think they were trying to start a friendly conversation.
Another weekend I went to a village where a friend I'd met through the guesthouse grew up.  The village was called Kito ("Cheetoh"). We drove for an hour on the highway, and then for an hour through sugar cane and tea plantations, nearly straight up a mountain.  While the village couldn't have been home to more than a 100 people, with probably fifty dollars between them, it was full of so much life and love.  It was nestled into a beautifully lush valley at a high elevation, and the view was breathtaking.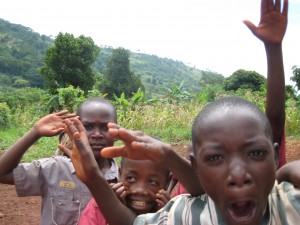 The friend from Kito was a teacher at a private school in Kampala, and she traveled back to Kito periodically to help the local teachers and work with the children.  When we arrived, the kids surrounded the car and we greeted them with bags of candies. We also brought a big surprise—a birthday cake—as it was my friend's birthday.  These children very rarely get sweets and had probably never had birthday cake.  We toured the two-room schoolhouse and then gathered in the church for singing, dancing, and CAKE!  We sliced up the cake into tiny little pieces and handed out the pieces to the kids in the pews of the church.  Their little eyes sparkled and they laughed giddily.  At the end of the cake-fest, the children formed a line and presented my friend with a gift and hug for her birthday.  They had all woven soccer balls, dolls, and jump ropes out of banana leaf fibers with amazing skill.  It was one of those day trips that I will never forget.
Being immersed in a small country taught me a lot, as I've lived primarily in big cities for the past ten years.  In Uganda, strangers talk to each other on the street, and they aren't afraid to have a personal conversation at work or debate politics.  Frankly, I've never been in an office, much less a law office, that laughs so much.  It makes me wonder why we are so serious here in the United States.
Author:
Impunity Watch Archive