by Zachary Lucas
Impunity Watch Reporter, Asia
NEW DELHI, India — Gunfights and clashes left seven militants and one police officer dead in Kashmir. Clashes have been steady in the region since a popular militant commander died during the summer.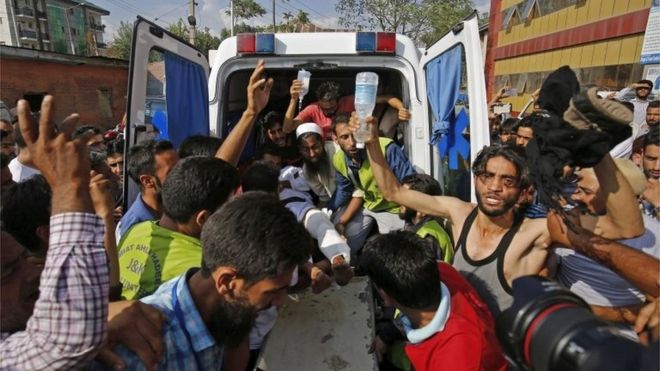 Indian security forces reported they had shot and killed three militants in Poonch, a district near the Indian border with Pakistan. Three of the militants were killed when they allegedly tried to storm the government secretariat in Poonch. The gun battle lasted all day which led to the death of a police officer along with the 3 militants. Another police officer and a civilian were wounded in the battle.
Another four militants were shot and killed as they attempted to cross the border into Pakistan in Kupwara. An Indian army official said a second wave of militants tried to cross the border, but they were apprehended without violence. No civilians were hurt during the skirmishes in Kupwara.
On Sunday, there were also large scale protests occurring in Karimabad village of Pulwama district. The protesters had come out to prevent the Indian soldiers from fighting militants. Protesters threw stones and blocked roads while security forces fired pellet rounds and tear gas. Over 150 protesters were injured in Karimabad village with 18 of them being transported to a hospital.
During the summer, a popular militant commander, Buhran Wani, died in a gunfight with Indian forces. Since then, there have been protests and clashes throughout Kashmir. Since Wani was killed, more than 70 protesters have died in clashes with Indian forces and thousands more have been injured. Just a couple of days earlier from these events, two more protesters died after engaging security forces.
Kashmir has been divided between Pakistan and India since both gained independence from Great Britain in 1947. Both countries claim the territory to be under their sovereign control. The disputed majority Muslim territory has caused two wars between India and Pakistan: one in 1947 and another in 1965. A large insurgency within Kashmir has been fighting for independence from India since 1989 which has left thousands of people dead.
For more information, please see:
Al Jazeera — Kashmir unrest: Two more protesters killed in clashes — 10 September 2016
BBC — 'Militants' killed in Kashmir clashes — 12 September 2016
BBC — Kashmir clashes over militant Burhan Wani leave 30 dead — 11 July 2016
Reuters — Skirmishes in Indian Kashmir leave police officer, seven militants dead — 11 September 2016
Tribune India — 150 protesters injured in Pulwama clashes — 12 September 2016