By Christine Khamis
Impunity Watch Reporter, Asia
LONDON, England –
Amnesty International released a report this week stating that the worldwide execution rate is currently at its highest point since 1989. More than 20,000 people remain on death row worldwide.
The report noted that at least 1,634 people were executed in 2015, more than a 50 percent increase since 2014. Pakistan, Iran, and Saudi Arabia's use of the death penalty accounted for 89% of the executions. That figure excludes China, where most execution records are kept secret.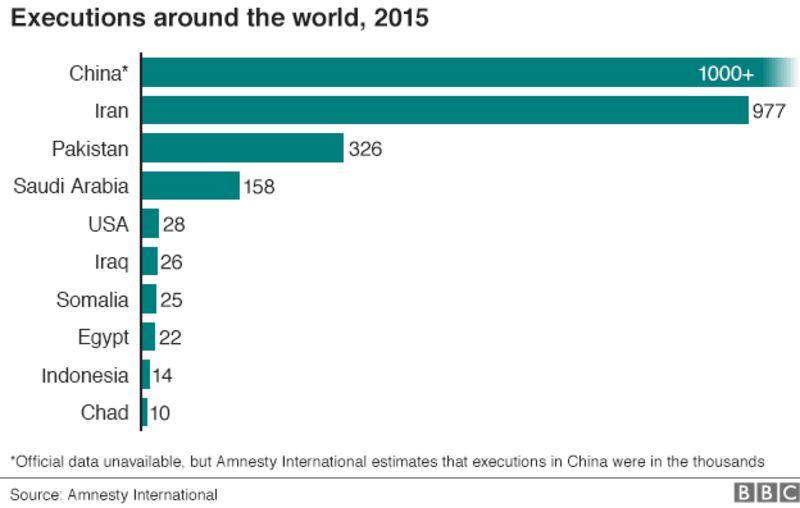 Amnesty stated in its report that China remains the country with the highest execution rate, with thousands put to death or sentenced to death in 2015. It was unable to give an exact estimate of the number of executions due to the secrecy surrounding the death penalty in China. It also stated that there were signs that China's use of the death penalty had actually decreased in recent years, but that again, it was impossible to confirm for certain.
Pakistan executed 326 people in 2015. The country had continued a "state-sanctioned killing spree", according to Amnesty, which followed a lifted moratorium on civilian executions in 2014. The report cited an attack on a school in Peshawar, Pakistan, as prompting the government's resumption of executions in 2014. The moratorium was initially lifted for any charged with terrorism-related crimes, but was subsequently lifted for perpetrators of all capital crimes.
Amnesty's report did note, however, that most countries have fully abolished the death penalty from their criminal justice system and that countries using the death penalty are now in the minority. It stated that 102 countries had abolished use of the death penalty by the end of 2015, with four countries eliminating the death penalty during 2015. In comparison, only 60 countries had abolished use of the death penalty by year-end in 1996.
Amnesty also named Saudi Arabia, the United States, Iraq, Somalia, and Egypt on its list of countries with the highest execution rates, among others.
In a statement accompanying its report, Amnesty said that the death penalty breaches the right to life and the right live free from torture, both fundamental human rights under he United Nations' Universal Declaration of Human Rights, adopted by the UN in 1948.
For more information, please see:
Al Jazeera – Report Finds 'Alarming Rise' in Executions in 2015 – 6 April 2016
BBC News – Amnesty Highlights 'Disturbing Rise' in Global Executions – 6 April 2016
International Business Times – Amnesty Documents 'Dramatic' Rise in Global Executions in 2015 – 6 April 2016
Voice of America – Amnesty: 'Disturbing' Rise in Executions Worldwide in 2015 – 6 April 2016
Author:
Impunity Watch Archive