By: Emily Green
Impunity Watch Reporter, South America
BUENOS AIRES, Argentina – Candidates in Argentina suspended their campaigns after a body was discovered in a river on Wednesday, October 18. Many believe it to be the missing activist, Santiago Maldonado, who was last seen close to that location.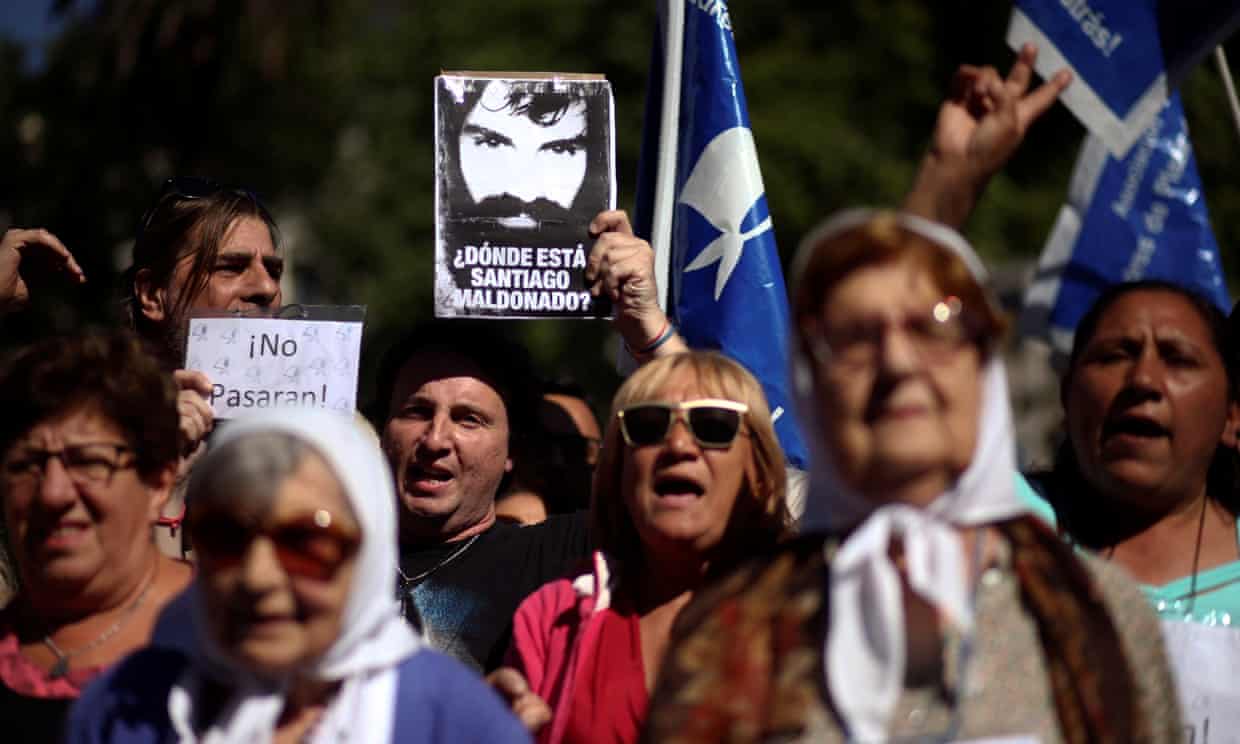 Maldonado disappeared in August during a protest for indigenous rights when the federal police force was called in to put down the rally. According to a witness, Maldonado was knocked unconscious by security forces and put into a car.
The remains were found about 1,500 meters from the community guard of the Indigenous Mapuche community in Pu Lof. The body was on the riverbed of the Chubut River.
An expert hired by Maldonado's family reported that the clothing on the body matches the description found of Maldonado's clothes from the day of his disappearance. Also, he claims to have found a document in one of the pockets with his name on it. Regardless, his family is not convinced and distrusts the government. They are staying by his body in anticipation of DNA identification. The autopsy will be carried out on Friday in Argentina's capital.
However, many question this discovery. That area of the river had previously been checked by authorities three separate times, and they have no explanation as to why they found it on the fourth dredging of the river. Maldonado's lawyer, Veronica Heredia, remarked "we do not understand … we have no physical or legal explanation of why that body was found yesterday."
Additionally, several other circumstances have raised suspicions that the body was planted. The remains were found only 300 meters from where the protest occurred, and his family questions how Maldonado could have been found upstream from where he went missing.
On top of that, it was recovered only days before Argentina's legislative election on Sunday. Major parties running in the mid-term congressional election suspended their campaigns as a result. There is tension and disagreement over who actually harmed Maldonado and which party's campaign will suffer more. As a result of the discovery, an emergency survey revealed that 12% of voters have decided to change their vote.
As a known activist for the Mapuche people, Maldonado spoke out against the Italian fashion giant, Benetton. The company owns 2.2 million acres of land which the indigenous people claims as part of their ancestral land. There have been numerous protests over the forcible eviction of community members from their homes.
Maldonado's disappearance is a grim reminder of the 1976-1983 dictatorship that ruled Argentina. During that time, around 30,000 young activists vanished after being taken into custody by security forces.
For more information, please see:
Sputnik – 'Too Shady': Body Thought to Be Missing Activist Found Ahead of Argentina Vote – 10 October 2017
Guardian – Body found in icy river could sway Argentina's midterm elections – 19 October 2017
Herald Tribune – Argentines Wait To Learn If Body is That of Missing Activist – 19 October 2017
BBC News – BBC Minute: On Argentina's missing activist – 19 October 2017
Telesur – Family of Missing Activist Santiago Maldonado: We Await Autopsy Results – 18 October 2017