By Daniel M. Austin
Impunity Watch Reporter,  Africa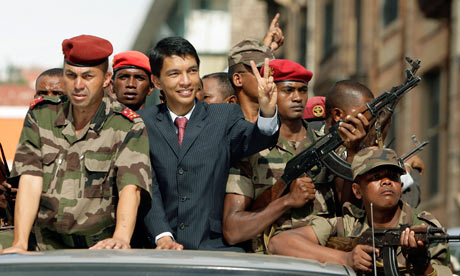 ANTANANARIVO, Madagascar -On November 17, 2010, a group of senior leaders from the Madagascar military attempted to overthrow the sitting government. Initial reports indicated 20 of the top-level military leaders had banded together to overthrow the current leader, Andry Rajoelina. Ironically, Mr. Rajoelina himself came to power after a successful coup attempt in March 2009. The coup attempt happened on the same day the country voted on a new national constitution.
On Wednesday, Colonel Charles Andrianasoavina told a news outlet, his group of rebels would be taking over the presidential palace as well as the country's main international airport. Although the physical taking of power had not yet occurred, it was the rebel group's intention to follow through with their promise to overthrow the current government. He claims that after the current administration is removed, a military counsel will be set up to run the day to day operation of the government. His comments took place at a military installation near the country's main airport. The Colonel and several other high-level military leaders participating in this coup attempt were also participants in the successful coup that brought the sitting president to power in 2009.
Aside from the comments made by Col. Andrianasoavina, reporters in Madagascar are unsure of the rebel group's power and whether they will be able to follow through with their promise to overthrow the current regime. Recent reports out of the country describe little, if any, changes on the ground. There has not been a significant troop build up or deployment, and the country's television and radio broadcasts have continued as normal.
This most recent coup comes as Madagascar is holding a referendum on a new constitution. One of the main tenets of the new constitution is that Mr. Rajoelina will remain in control of the nation until elections can take place. Analysts believe that this provision in the constitution will allow him to remain in power indefinitely. When Mr. Rajoelina came to power in 2009, he scrapped the old constitution.
Madagascar is a small island nation off the coast of Africa in the Indian Ocean. It has been plagued with instability for a number of years. This most recent coup attempt is just another in a long line of coup attempts that have plagued the island nation.
For more information, please see:
Al Jazeera –Madagascar officers 'make coup bid' – 17 November 2010
BBC Africa —Madagascar officers in coup claim – 17 November 2010
New York Times – Coup Attempt Reported in Madagascar – 17 November 2010
Reuters Africa – Rebel Madagascar officer says to shut airport – 17 November 2010
Author:
Impunity Watch Archive