By Brendan Oliver Bergh
Impunity Watch Reporter, South America 
ASUNCIÓN, Paraguay – Six months ago, on June 15,  violence ripped through the small land-locked country of Paraguay as a land eviction turned into a shot out which left six police officers and eleven civilians were killed in what has been dubbed the Curuguaty massacre. Now amid rallies and controversies prosecutors have finally levied charges against 12 peasants deemed guilty of murder, criminal association and invasion of property.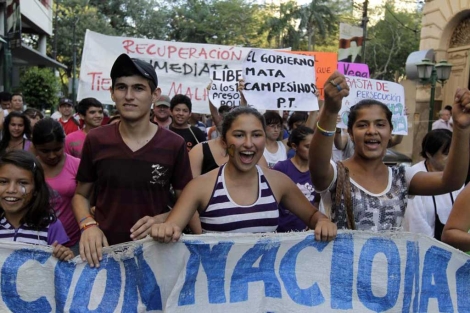 However the event that forced Ex-President Fernando Lugo out of office has not ended as gunmen early December 2nd burst into the home of Vidal Vega and killed him in front of his wife. Vega was a witness to the atrocity, and one of the last surviving members of the Landless Peasant Movement.
Vega was a leader who lobbied for years to redistribute land that had been illegally seized by Senator Blas Riquelme  in the 1960s. While advocating a non-violent and legal return of the land, it was the lack of results and a ruling by the Paraguayan Supreme Courts in favor of Riquelme's estate which caused peasants to lose their patience and re occupy the land.
Early on June 15, a large police convey entered the tract of land at Curuguaty to evict the nearly 50 peasants that been illegally occupying the land. The officers arrived unarmed, expecting only non-violent resistance from the men women and children currently occupying the land when gunfire filled the air. Witnesses disagree as to whether the peasants opened fire or infiltrated gunmen are to blame, but agree that the civilians and officers alike were riddled with bullets and when reinforcements arrived 17 people were dead.
With the death of Vega, the people of Paraguay demanded an answer and investigation for the death of the peoples leader. Days later over 4,000 people marched to the National Pantheon of Heroes demanding "justice" for their slain heroes and a release of the prisoners currently held and being prosecuted for the slaughter of Curuguaty. Organized by the Human Rights Coordinator of Paraguay the people have demanded compensation for the victims, police and peasants combined.
While the administration has pledged to fully investigate the murder of Vidal Vega there is no indication that they will budge on the protesters other demands. The marchers called for the release of political prisoners and return of the land, there does not seem to be any attempt by the executive, legislative or judicial bodies to return the land seized during the 1960s.
 For further information, please see:
BBC – Paraguay Peasants Charged Over Deadly Land Clash – 16 December 2012
El Mundo – Massive March In Paraguay For The Return Of Democracy And Justice For Curuguaty – 12 December 2012
El Mundo – Slain Peasant Leader Vidal Vega, A Key Witness In The Killing Of Curuguaty – 3 December 2012
Huffington Post – Vidal Vega Dead: Paraguay Peasant Leader Killed In Paraguay By Gunmen – 2 December 2012
El Mundo – A Violent Eviction In A Rural Hacienda Paraguay Kills 17 – 15 June 2012
Author:
Impunity Watch Archive