By Alexandra Sandacz
Impunity Watch Reporter, Europe
MOSCOW, Russia – Russian police detained Eduard Limonov, leader of the Other Russia opposition movement, and various other activists during a protest to defend the right to assemble.  Article 31 of the Russian Constitution protects the right to assemble; however, officials frequently deny the necessary permits.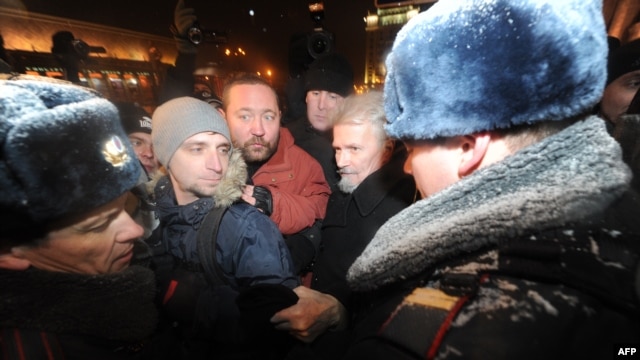 Police arrested Limonov when he addressed journalists in Moscow's Triumph Square. The Strategy 31 Movement organizes protests on the last day of every month that has 31 days to demonstrate the suppression of free assembly under President Vladimir Putin's government.
As near by Muscovites watched, demonstrators in the capital's main street chanted, "Russia without Putin!" and slogans calling for the right to free assembly. The protest in Triumfalnaya Square gathered 50 to 100 people. Opposition activists reported that the riot police arrested at least 28 people.
Putin passed a law in 2012 that increased fines for organizers and protesters deemed to have violated the assembly rules. As a response, Putin's critics believe the recent laws are merely an attack on those who do not agree with the President's views as he returned for a six-year term in May.
In his New Year's Eve address, Putin did not address the protests that took place in the past year. He instead stated, "We believe that we can change the life around us and become better ourselves, that we can become more heedful, compassionate, gracious." He added that Russia's fate "depends on our enthusiasm and labor".
On January 1, the Interior Ministry stated that all protesters arrested during the Moscow's year-end rally for the freedom of assembly were released.
For further information, please see:
UPI – Moscow protesters arrested, released – 1 January 2013
The Guardian – Russian police arrest opposition activists at New Year's Eve protest – 31 December 2012
Reuters — Russian activists detained at protest for free assembly – 31 December 2012
RFE/RL – Activists Detained At Russian Protests For Free Assembly – 31 December 2012
Author:
Impunity Watch Archive