By Emily Schneider
Impunity Watch Reporter, Middle East
JERUSALEM, Israel – The Israeli government granted initial approval for a total of up to 3,000 homes in Jerusalem, including a 1,500-unit settlement in East Jerusalem. The announcement came a day after the U.S. State Department strongly condemned Israel's plans for building in East Jerusalem.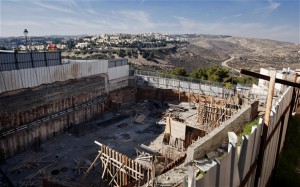 The new settlements and expansions to existing ones on land on the Palestinian side of the pre-1967 "green line" was originally announced during Vice President Biden's visit in 2010. At the time, the announcement resulted in somewhat of a political crisis. It was put on hold because of the controversy it created, but was reinstated and approved this past week. It is one of many plans pushed by Netanyahu to expand into Palestinian territory since November.
Netanyahu spokesman Mark Regev told CNN: "The actual construction is of 3,000 housing units, as was decided by the government on November 30, 2012. All these units are in Jerusalem and the settlement blocs that will stay a part of Israel in a future peace agreement. All other announcements regarding construction refer to stages of planning and zoning, a bureaucratic process that takes years to complete. In any case, this process necessitates a separate decision by the government before actual construction can begin."
In November, the U.N. granted Palestine an upgrade of their status to nonmember observer state status. Although the change in status still does not recognize Palestine as a State, the U.N. decision symbolically created a degree of statehood for Palestine.  Israel was unhappy with the outcome of the U.N. vote and some see this expansion of settlements as a direct reaction to Palestine's change in status.
The United Nations and many countries in the world consider Israeli settlements illegal and an impediment to the peace process because they inhibit a two-state solution.
"If there is a financial cliff in Washington or the United States today, there is a political cliff over a two-state solution (here), and I think we are already slipping down the cliff, because the implementation of the massive settlement program that Israel has announced just today and yesterday it is putting an end to the possibility of a two-state solution," Mohammad Shtayyeh, a Palestinian Authority negotiator and minister, told CNN on Wednesday.
Victoria Nuland, U.S.  Department of State spokesperson said, "we are deeply disappointed that Israel insists on continuing this pattern of provocative action," and said that such actions "run counter to the cause of peace. Israel's leaders continually say that they support a path towards a two-state solution, yet these actions only put that goal further at risk."
For more information, please see:
JPost – Analysis: In the Eye of the Beholder – 24 Dec. 2012
CNN- Israel Says it Will Build Settlements in East Jerusalem Neighborhoods – 20 Dec. 2012
Telegraph – U.S. Condemns 'Provocative' Israeli Settlement Building – 19 Dec. 2012
Al Jazeera – U.N. Votes to Upgrade Palestinian Status – 29 Nov. 2012
Author:
Impunity Watch Archive