By Emily Schneider
Impunity Watch Reporter, Middle East
JERUSALEM, Israel – An informal truce in place since Thursday came to an end Sunday as militants in Gaza fired rockets into southern Israel. Reports vary, but anywhere between 7 and 26 rockets were fired into Israel on Sunday from Gaza in the worst outbreak of violence in the area in months. Reports say that 18 rockets were fired on Monday alone.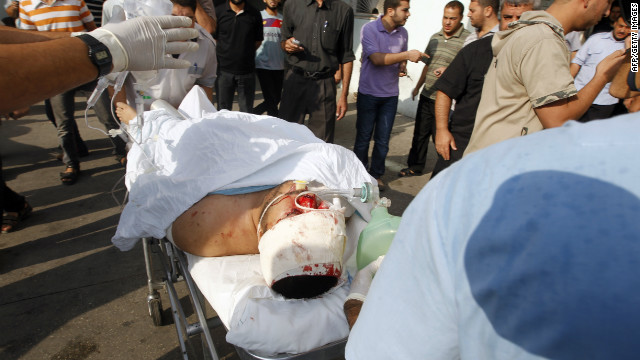 An Egyptian-brokered truce paused fighting in the Gaza strip area since Thursday.  Although no formal agreement had been reached with Hamas, the Islamist faction which controls the Gaza Strip, an Israeli defense official said that Egyptian defense officials had been instrumental in restoring calm.
"The Egyptians have a very impressive ability to articulate to (Hamas) that its primary interest is not to attack and use terror against Israel or other targets," Amos Gilad, an Israeli defense official, told Israeli Army Radio. However, he made sure to acknowledge that there was no direct agreement with Hamas.
"It can be said categorically that there is no agreement with Hamas, there has never been and there will never be. … The only thing that has been set and said is that there will be calm. We are not interested in an escalation," Gilad added.
An Israeli spokeswoman said that 86 projectiles had been fired at Israel from Gaza between Tuesday and Wednesday, but noted that the Iron Dome system had intercepted eight of them. There was nevertheless damage to several homes in southern Israel and three agricultural workers were wounded when a Palestinian rocket exploded near them on Wednesday. That same day, Israel killed a Hamas militant in an air strike, the purpose of which was to prevent rocket launches from Gaza. On Tuesday, Israel killed three Hamas members who, allegedly, were involved in launching the previous attacks or planning future ones.
Before Sunday, the last known rocket launched from Gaza occurred on Wednesday at 8:00 p.m., according to that spokeswoman.
The latest surge of violence occurred Sunday, following the killing of a Gazan who Israel claimed had fired mortars at Israeli troops. That militant died near the southern town of Khan Younis and reportedly belonged to the Izzedine al-Qassam Brigades, which is the armed wing of Hamas. Hamas responded by firing rockets and were answered by Israeli airstrikes that took out several targets in Gaza. Israeli officials say that seven rockets were fired into Israel from Gaza on Sunday alone.
Hamas has refused to renounce violence or recognize Israel's right to exist, and is ostracized by the Quartet of Middle East mediators comprising the United States, United Nations, European Union and Russia.
For further information, please see:
Arutz Sheva – Barrage Continues: 18 Rockets Since Midnight – 29 October 2012
BBC News – Violence Ends Israel-Gaza Truce – 29 October 2012
Haaretz – IAF Strikes Gaza After Rocket Barrage Hits Southern Israel – 29 October 2012
Rueters – Egypt Brokers Informal Israel-Gaza Truce: Israel Official – 25 Octover 2012
Author:
Impunity Watch Archive