By Madeline Schiesser
Impunity Watch Reporter, Europe
MOSCOW, Russia – An election watchdog has been fined under a new Russian law that requires Non-Governmental Organizations (NGOs) to register as "foreign agents."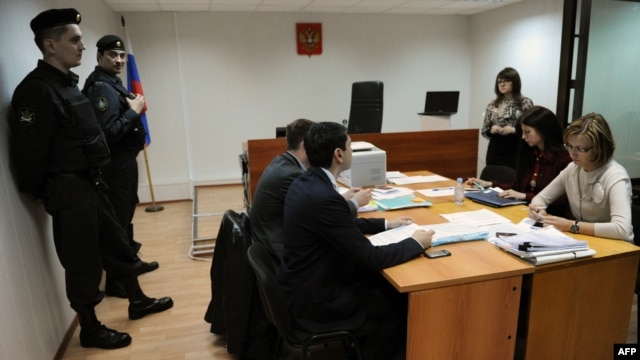 Golos (Voice) is the first NGO to be fined under the law that went into effect last November.  A Moscow court ruled that the Watchdog had filed to register as a "foreign agent" after receiving funds from abroad in December, and therefore fined Golos 300,000 roubles (£6,200; $9,500; €6,300). Additionally, its director, Lilia Shibanova, was fined 100,000 rubles (£2,100; $3,200; £2,100).
Under the law, NGOs which receive foreign funding and supposedly engage in "political activities" must register as "foreign agents," a term which has its roots in the Stalin Era, when it was used to discredit enemies of the state.
Golos defended itself explaining that the finds in question were a sum of €7,728.4 ($10,000) awarded by the Norwegian Helsinki Committee as part of its Andrei Sakharov Freedom prize.  The funds were transferred into Golos' account in December before Golos was able to immediately return the prize money unused.
Although Golos received funding in the past from USAID, Golos asserts that since November, "The Golos association receives no foreign funding and is funded solely by Russian resources."  Furthermore, Golos insists that the law should not even be applied to the organization as Golas is not involved in "political activity." It says it will appeal against the verdict.
The 13-year-old Watchdog group played a key role in exposing fraud during the 2011 parliamentary election, charting abuses across Russia, most notably with an online "map of violations."  It also reported on widespread violations during the 2012 presidential vote, which resulted in Vladimir Putin's third presidential term.  Its exposure of violations and falsifications during these elections helped spark mass protests against Putin's rule, which is why Golos believes it is now being targeted by authorities.
Golos is also mindful of the precedent its fate will set for other NGOs.  "We are convinced of our innocence," Golos said before the verdict. "This is the first court hearing bringing to responsibility an organi[z]ation that is purportedly a foreign agent. The fate of many other NGOs will depend on the decision."
While the fining of Golos is the first enforcement of the foreign agents law, more than 200 NGOs in 50 regions of Russia have been raided by inspectors in the past months.  Tax auditors have poured over the financials of many NGOs, while health & safety and fire inspectors have arrived unannounced at NGO offices to scrutinize code compliance.  The continuing raids on Russian NGOs have sparked international outrage, and the U.S. State Department has called them "a witch hunt."
"The government claims the inspections are routine, but they clearly are not," said Hugh Williamson, Europe and Central Asia director at Human Rights Watch.  "The campaign is unprecedented in its scope and scale, and seems clearly aimed at intimidating and marginalizing civil society groups. This inspection campaign can potentially be used to force some groups to end advocacy work, or to close them down."
Earlier this month, Russian President Vladimir Putin accused NGOs in Russia of receiving $1 billion in foreign funding since the beginning of the year.  In response, 56 organizations signed an open letter demanding an explanation for what they describe as a grossly inflated figure.  Many NGOs have also said they will not comply with registering as "foreign agents."
The goal of the raids and foreign agents law appears to be to intimidate NGOs, including advocacy groups whose criticism has long bothered the Kremlin, to close their doors, a move which would cripple civil society in Russia.  The organizations searched include not only those critical of the government, but also NGOS concerned with medical assistance, battling pollution, distributing clothes and food to the needy, and, generally, improving the quality of life for ordinary Russians.  Their closure would affect thousands of families who rely on NGOs for the services that the Russians authorities have been unable, or unwilling, to provide.
According to veteran human rights activist Lyudmila Alekseyeva, the Kremlin's strategy is to bring even civil society under its domain.  "After bringing the business world, the judicial and the legislative power under its control, after mastering the technologies to arrange election results, the authorities are determined to tackle Russia's last bastion of independence — civil society," she said. "Civil society is increasingly active, and this frightens them."
For further information, please see:
Moscow Times – U.S. Voices Concern Over Fine of Golos – 26 April 2013
BBC News – Russia NGO Law: Election Watchdog Golos Fined – 25 April 2013
RFE/RL – Golos Election Monitoring NGO Fined Under New Law – 25 April 2013
HRW – Russia: Worst Human Rights Climate in Post-Soviet Era – 24 April 2013
RFE/RL – Raids On NGOs Could Threaten Ordinary Russians – 21 April 2013
Author:
Impunity Watch Archive