By Alexandra Sandacz
Impunity Watch Reporter, Europe 
MOSCOW, Russia – Yesterday, Russia pushed forward with the posthumous prosecution of a whistleblowing lawyer, Sergei Magnitsky, for tax evasion charges.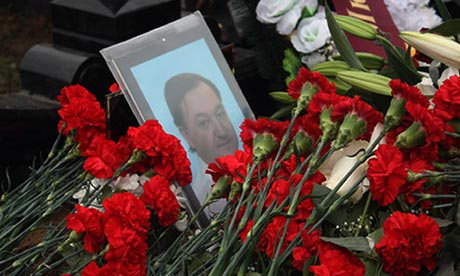 Magnitsky, whose name titled a new U.S. law that punishes alleged human rights abusers, died in 2009 during his stay in a Moscow pretrial detention facility. Magnitsky was jailed and charged with tax evasion after he accused high-ranking Russian officials of a multimillion-dollar embezzlement.
Despite an attempt by Magnitsky's relatives to block a trial they believe is "inhuman and politically motivated", a Moscow Tverskoi District Court judge ordered the appointment of a state sanctioned lawyer to represent and give 'legal advice' to deceased Sergei Magnitsky.
The next scheduled hearing is for the judge to determine if Magnitsky has been 'properly notified' of the trial and if Magnitsky provided the prosecutor with 'confirmation of notification in writing.'
A Hermitage Capital representative stated, "The fact that this posthumous trial is going ahead, indicates that justice in Russia is turning into raw and out­right blasphemy. The only place where a notice to Sergei Magnitsky can be delivered is to his grave at the Preobrazhenskoye cemetery, and any written confirmation would need to be obtained from his corpse. There is a special place in hell for the people organizing this."
Amnesty International believes Magnitsky's trial is "a whole new chapter in Russia's worsening human rights record" and is a "sinister attempt to deflect attention from those who committed the crimes he exposed". In addition, the trial violates his human rights even in death, denying him "in particular the right to defend himself in person."
Magnitsky's mother, Natalia Magnitsky, sincerely requested that all Moscow lawyers boycott any requests from the court to participate in the trial as state appointed lawyers.
In her statement, she stated, "The reopening of a prosecution against my dead son without my consent and without the consent of other close relatives and against their will, is contrary to the aims and the legal meaning of the judgment of the Russian Constitutional Court… It distorts its legal purpose, violates the constitutional rights of my son, and especially in light of recent international events, is politically motivated."
Natalia Magnitsky continued, "With the help of my son, crimes of persons occupying high positions in govern­ment were exposed, and because of these crimes, those officials have become enormously rich. These individuals, especially at the present time, are interested to compromise my son. With this purpose, they have organized this posthumous prosecution in order to obtain a knowingly unjust judgment and posthumously defame the honest name of my son."
Conversely, lawyer, Mark Feigin, said he was interested in finding Magnitsky guilty because it would offer some vindication for the officials who were accused of embezzlement. Furthermore, lawyer, Anna Stayitskaya stated, "The purpose of the case is to acknowledge Magnitsky's guilt and demonstrate to the world that it is defending a guilty person and the Magnitsky Act was a mistake. But Russia doesn't understand that no one will believe the court's decision."
For further information, please see:
Law and Order In Russia – 'Blasphemous' Posthumous Trial Against Magnitsky Begins with the Forced Appointment of a State Sanctioned Lawyer to Magnitsky – 18 February 2013
The Guardian — Dead Russian Lawyer to go on Trial Next Month — 18 February 2013
The Moscow Times – Magnitsky Hearing Put Off for 2 Weeks – 18 February 2013
Reuters – Russian Court Rejects Attempt to Block Dead Lawyer's Trial – 18 February 2013
The Independent – Russia Set for Posthumous Magnitsky Trial – 17 February 2013
Author:
Impunity Watch Archive