By Madeline Schiesser
Impunity Watch Reporter, Europe
MOSCOW, Russia – On Friday, Russia's lower house of Parliament, the State Duma, passed the first reading of a bill that would ban spreading "homosexual propaganda" among minors.  Police arrested about 20 protestors outside the Duma after a fight broke out between supporters and opponents of the ban.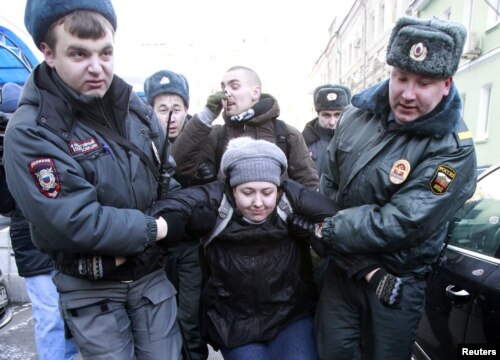 Deputies of the Duma passed the first of three required readings with near-unanimous support: 338 voted in favor of the bill, 1 (Sergei Kuzin of United Russia) in opposition, and 1 (Dmitry Gudkov of A Just Russia) abstained.  In addition to passing the readings, the bill must also be approved by the Federation Council, and be signed by President Vladimir Putin to become law.
Although the bill was introduced in the Duma last March by lawmakers from Novosibirsk in Siberia, where locally such laws are already in effect, the bill's consideration date was pushed back several times.
Echoing laws in St. Petersburg, Arkhangelsk, Novosibirsk, and other regions, the bill would impose fines on individuals and organizations promoting "homosexual behavior among minors."  Individuals could be fined up to 5,000 roubles (£105; 124 euros; $166) and officials could face a fine of ten times that amount, or 50,000 roubles (£1,050; 1,240 euros; $1,660).  Legal entities, including businesses and schools, could be fined at 100-times the individual limit, resulting in fines of 500,000 roubles (£10,500; 12,400 euros; $16,600) per incident.
Opposition from the gay community has been strong, and gay-rights activists particularly note that the bill fails to define "homosexual propaganda."  Like its forerunners, the bill also fails to give precise legal definition of homosexuality, bisexuality and transgender.  However, when the LGBT community attempted to challenge this lack of precise language in regional legislation last year, they were turned denied through the Supreme Court.  Accordingly, with the vague language, activities ranging from demonstrating to kissing in public, all in possible view of minors, could constitute "homosexual propaganda."
Nonetheless, Russia's state television has reported that members of the gay and lesbian community will be invited to attend the second hearing of the bill, which will most likely be in the next few weeks.
Meanwhile, outside the Duma Friday, gay-rights activists clashed with Russian Orthodox Christians.  The gay-rights activists protested with a "kiss-in," which drew an angered, violent reaction from the bill's supporters, some of them holding Russian Orthodox icons or crosses.  A scuffle ensued between the two sides, which was broken up by police from the Interior Ministry, who made several arrests.
According to opposition newspaper Novaya Gazeta correspondent and gay-rights activist Yelena Kostyuchenko, ""Some of them threw eggs at us, others chanted prayers. They poured 'zelyonka' ['brilliant green,' a common antiseptic that is hard to wash off] on us. They tried to attack us several times."
Sources conflict as to whether, of the 20 people arrested by police, any proponents of the bill were among them.  However, Kostyuchenko, claiming the police were clearly on the Duma's side, reported, "In our police van, there are only LGBT activists and their friends, people who were protesting the bill. There aren't any fascists or so-called Orthodox activists among us here."
Deputy Dmitry Sablin, a member of the ruling United Russia party explained the bill was necessary because "[a]lready 30 percent of children have a more or less positive attitude toward [homosexuality]."  He further stated, "We live in Russia after all; not Sodom and Gomorrah."  Sablin concluded that defending "traditional values" is "even more important than oil or gas."
United Russia's parliamentary faction leader, Vladimir Vasilyev, noted the narrowness of the law in only restricting propaganda "among minors."  In explaining the goal of the bill, he started "We want our young generation to grow up without this kind of influence."
By contrast, Amnesty International has criticized the bill as "an attack on the right to freedom of expression," and cautioned that the bill, which "further stigmatizes and alienates" homosexual people, could be interpreted very loosely.
In Washington, the Obama administration was "deeply concerned" over the bill.  State Department spokeswoman Victoria Nuland said the bill will "severely" restrict freedom of expression and assembly for LGBT individuals, and "indeed for all Russians."  She called on Russia to protect its citizens' democratic rights, without discrimination.
For related Impunity Watch posts, please see:
Russia Pushes Forward Anti-Gay Law – 22 January 2013
Russia "Gaga" Over Homosexuality Promotion Debate – 12 December 2012
For further information, please see:
France24 – Russia Backs Nationwide 'Anti-Gay' Bill – 26 January 2013
RFE/RL – Russian 'Gay Propaganda' Bill Passes First Reading Amid Scuffles Outside Duma – 26 January 2013
Amnesty International – Russia's Anti-Gay 'Propaganda Law' Assault on Freedom of Expression – 25 January 2013
BBC News – Russian MPs Back 'Gay Propaganda' Ban Amid Scuffles – 25 January 2013
Moscow Times – Duma Passes Anti-Gay Law in First Reading – 25 January 2013
Returns – Russian Police Break up "Kiss-in" Over Anti-Gay Law – 25 January 2013
RT – Russian Duma Gives First Nod to Nationwide Ban on Gay Propaganda – 25 January 2013
Author:
Impunity Watch Archive