By Madeline Schiesser
Impunity Watch Reporter, Europe
MOSCOW, Russia— Sergei Udaltsov, leader of the Russian Left Front Movement, was charged with conspiracy to organize mass riots against the presidency of Vladimir Putin on Friday.  Also charged are Konstantin Lebedev (an assistant to Udaltsov) and Leonid Razvozzhayev (an assistant to an opposition State Duma deputy), who has claimed he was kidnapped from Ukraine and forced to sign a confession while in handcuffs in Moscow.  All face up to 10 years in prison if convicted.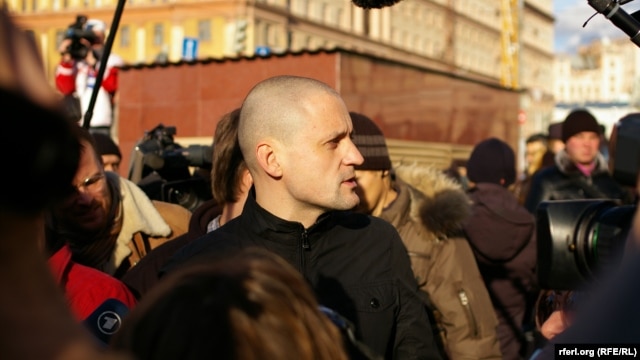 On Friday, Udaltsov, who last week was placed under a travel ban after Russia's Investigative Committee (SK) began to scrutinize him, appeared before the SK and denied all charges.  Although he was permitted to leave the SK office Friday, Udaltsov was detained Saturday by police at a protest in Moscow.
Udaltsov is well known for his involvement in Moscow street protests, for which he has served several short periods in jail in the past. Before appearing before the SK, Udaltsov stated the following to a group of reporters: "[T]his case is based on tortures, it's shameful, it hurts Russia's image. . . I have not committed any crime. I am going in there with my head up.  And if I am arrested today, I hope society will not ignore it, and mass protests will begin.  As for me – I'll be ok, I hope everything will be fine and Russia will be free and that's what I wish you all."
Razvozzhayev, also charged with plotting mass riots and being held in Moscow's Lefortovo prison, signed a lengthy 10-page confession concerning orchestrating riots, which the Investigative Committee of Russia (ICR) claims he penned himself after turning himself in.  Razvozzhayev has asserted that he was forced to sign after being kidnapped, and has since retracted the confession.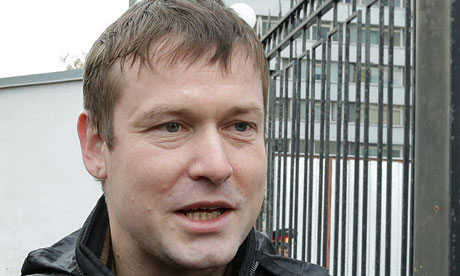 Razvozzhayev claims that, after meeting with a lawyer for advice on seeking political asylum Friday 19, he was kidnapped off the streets of Kiev, Ukraine, by four men who put a hood over his head and forced him into a van, which then drove him across the Russian border against his will.
Razvozzhayev claims that he was then psychologically tortured; he was kept handcuffed in a basement without food or water or use of a toilet.  He says he signed the confession in handcuffs.
As Razvozzhayev was being removed from a courthouse on Sunday, where his arrest had been sanctioned, he shouted to reporters: "Tell everyone that they tortured me. For two days. They smuggled me in from Ukraine."
The charges against Udaltsov, Lebedev, and Razvozzhayev stem from a documentary film, "Anatomy of a Protest 2," aired by a pro-Kremlin television station, NTV, at the beginning of October, which allegedly showed Udaltsov meeting with a member of the Georgian government to discuss plans and seek foreign money for organizing street unrest in Russia.
In the middle of October, the apartments of all three were searched, as was the apartment of Udaltsov's parents.  Udaltsov's wife and children are staying in Ukraine.
Putin's spokesman has stated that the Kremlin cannot and should not comment on the case, and it only concerns the investigators, prosecutors, judges, attorneys and rights activists. Likewise, the parliamentary majority party, United Russia, has denied a parliamentary probe into Razvozzhayev's claims, arguing that such falls to the Prosecutor General.
For further information, please see:
RFE/RL – Russian Police Detain Opposition Leaders at Moscow Rally – 27 October 2012
BBC News – Russian Leftist Sergei Udaltsov Charged with Conspiracy – 26 October 2012
RFE/RL – Udaltsov Charged With Plotting Unrest – 26 October 2012
RT – Leftist Leader Udaltsov Charged with Conspiracy to Organize Riots – 26 October 2012
International Herald Tribune — Jailed Russian Opposition Leader was Abused, Groups Say – 23 October 2012
RFE/RL – Russian Activist Charged With Preparation of Mass Disorders – 23 October 2012
BBC News – Russian Anti-Putin Activist 'Admits Riot Plot' – 22 October 2012
The Guardian – Putin Opponent Claims he was Tortured into Moscow 'Riots' Confession – 22 October 2012
RFE/RL – Udaltsov Aide Charged, Faces 10 Years in Jail – 18 October 2012
Author:
Impunity Watch Archive