By Alexandra Sandacz
Impunity Watch Reporter, Europe
MOSCOW, Russia – In early November, Leila Ashirova and Bakiya Kasymova, who were among 12 Kazakhs and Uzbeks, were freed from a nightmare described as a decade of slavery in a basement of a Moscow supermarket.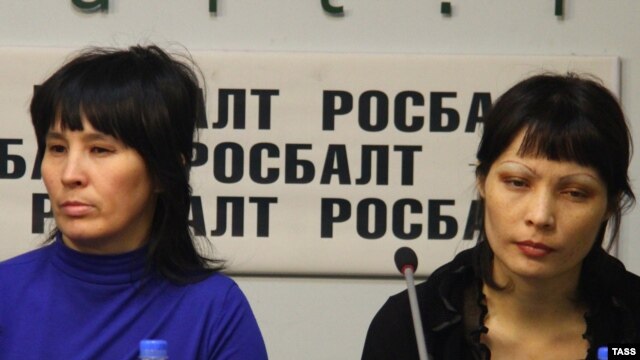 Although Ashirova and Kasymoya thought their captors would face criminal charges for slavery, Russian prosecutors dropped the criminal investigation and claimed there was no evidence of a crime. Furthermore, on November 9, police accused Ashirova and Kasymova of illegally residing on Russian territory without proper documentation.
Irina Biryukova, the lawyer who represents Ashirova, stated, "The girls are in a really difficult situation because they are no longer connected to a criminal investigation." She continued, "That means in the eyes of the authorities, they are on Russian territory illegally. [The authorities] would, of course, like to deport them somehow. But we are trying everything to stop this from happening."
Rights activist, Danila Medvedev, reported "Six years ago, a survey on human trafficking was conducted at the U.N.'s request and said that there are half a million to one million people in Russia who are practically living as slaves here."
When Russian human rights activists freed the two women in early November, Ashirova and Kasymoya said they were attracted to Russia with the promise of employment. The women also told investigators that they were kept in the supermarket basement for at least 10 years with the fear of violence if they tried to escape. Furthermore, the prisoners were not paid for their work in the supermarket.
Ashirova described the conditions, "I saw one young woman who was carried out dead. Another woman was taken from there forcibly by her parents because she had not come home in so long. Another girl left because one of her legs had become gangrenous. She'd worked there 10 or 15 years; she was there even before us."
However, despite Ashirova's testimony, the Moscow prosecutor's office maintains there is no evidence of slavery. Yelena Rossokhina, a spokeswoman for the Moscow prosecutor's office, stated, "They say it's slavery and that they were held for several years. These Uzbek women weren't held by anyone; they visited shops, they visited clinics, and they didn't appeal to anyone about being held captive. How can this be sufficient grounds for a criminal case? It's a very big question. Simple as that."
Oleg Melnikov, a member of the rights organization Alternative, scorns the prosecutors' claims as "deceit."
Anastasia Denisova, a member of the Civil Assistance rights organization, said the two women, "realize that if they don't go all the way to the end now that it won't be safe for them either here or at home if these people (their former captors) remain at large."
Attorneys for Ashirova and Kasymova believe the two women face deportation because of the criminal case the women initiated against their alleged captors.
For further information, please see:
RFE/RL — Freed 'Slaves' In Moscow Face Deportation, Their Captors Off The Hook – 20 November 2012
Times of News — Grocery Store Slavery Case Opened – 06 November 2012
Reuters — Russian activists say have freed 12 human "slaves" from shop – 02 November 2012
The Moscow Times – Activists Say Migrants Were Held as Slaves in Grocery Store – 01 November 2012
Author:
Impunity Watch Archive