By Hannah Stewart
Impunity Watch Reporter, Africa
CONCORD, New Hampshire — A New Hampshire jury on Thursday convicted a Rwandan woman of lying about her role in the 1994 genocide in her home country to acquire U.S. citizenship.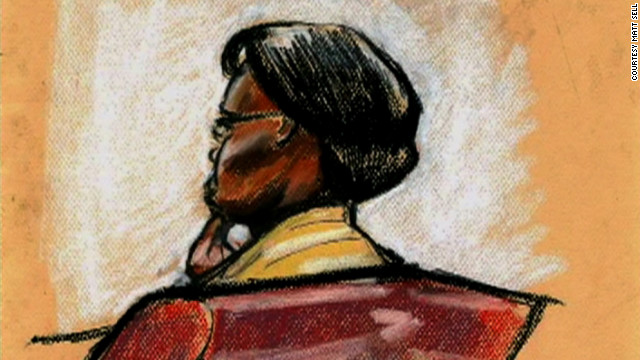 Beatrice Munyenyezi, 43, had her citizenship revoked by a federal judge and will face sentencing in June for two counts of fraudulently obtaining her U.S. citizenship status.  Jurors deliberated for less than five hours Thursday before convicting Munyenyezi .
Upon hearing the verdicts, Munyenyezi put her head down on the defense table and wept.  Her 18 year-old daughter sobbed as she left the courtroom, while her two other daughters were not present.
Munyenyezi is back behind bars, where she spent 22 months between her indictment in 2010 and the jury deadlocking in her first trial last year.  She was released to home confinement in Manchester the month after that mistrial.
According to the Justice Department, she now faces up to 10 years in prison, a $250,000 fine on each count and possible deportation.
Munyenyezi, who was not on trial for war crimes, was found guilty of intentionally lying about her role in the infamous slaughter in which ethnic Hutu militants viciously slaughtered their Tutsi counterparts over a three-month period.  While a true number has never been established, many report that the unexpected genocide resulted in the death of approximately one million Rwandans.
The same team of prosecutors who obtained the guilty verdict in Munyenyezi's case also secured a conviction against her sister last summer in Boston on charges of fraudulently obtaining a visa to enter the United States by lying about her own Hutu political party affiliations.
Munyenyezi is thought to be married to former militia leader Arsene Shalom Ntahobali, who was convicted of war crimes by the International Criminal Tribunal for Rwanda (ICTR) and sentenced to life in prison last year.  She is thought to have lived in the hotel and helped pick out those who arrived at a nearby checkpoint to be executed or raped.
At trial, prosecutors brought in Butare residents who placed Munyenyezi at a roadblock where Tutsis were identified by the ethnicity listed on their Rwandan identification cards and ordered which ones were to be killed.  The prosecutors did not rely upon a handful of Rwandan prisoners serving life sentences for murders and rapes during the genocide.  Other witnesses testified that they saw her in the clothing worn by leaders of the extremist Hutu political party.
Moreover, Ntahobali's mother was also convicted by the ICTR and sentenced to life in prison in June 2011 for genocide, crimes against humanity and war crimes of violence.  She was a cabinet minister in the Hutu-dominated Rwandan government when the genocide began in early April 1994.
For more information, please see:

ABC – Convicted NH Woman Might be Sent Back to Rwanda – 22 February 2013
Fox News – NH Woman Convicted of Masking Role in 1994 Rwanda Genocide Faces Prison, Might be Deported – 22 February 2013
Huffington Post – Beatrice Munyenyezi Lied About Her Role in Rwanda Genocide; Faces Deportation from New Hampshire – 22 February 2013
Washington Post – Jurors Convict NH Woman of Lying About Role in Rwanda Genocide to get Citizenship – 22 February 2013
Author:
Impunity Watch Archive