By Tara Pistorese
Impunity Watch Reporter, Africa
PRETORIA, South Africa—Yet another South African police official has been replaced after accusations of irregular leasing deals with business tycoon Roux Shabangu surfaced.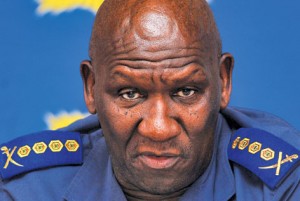 President Jacob Zuma fired the police commissioner over claims that leasing contracts for police headquarters were far above market rates. A subsequent investigation found Cele unfit for office, although Cele vows to "clear his name."
Sunday Times investigative journalists Mzilikazi Wa Afrika and City Press assistant editor Adriaan Basson believe corrupt police officials and politicians are the reason the South African government has failed to address national issues of inequality and poverty.
"In a country like ours where politicians are rated to earn more money, what makes them steal from the poor?" Wa Afrika asked.
But this is not the first time the South African police force has made headlines due to scandal. Cele's predecessor, Jackie Selebi, is currently serving a fifteen-year sentence for accepting gifts from a convicted drug trafficker in exchange for information about police investigations.
Recently, Nathi Mthethwa, a South African police minister, revealed Selebi was never formally discharged from his police service. Rather, Selebi's contract came to a natural end when it was simply allowed to lapse in August 2009.
In other words, Selebi has been able to continually draw a pension and state-funded benefits just as he would have had he resigned or been honorably discharged from service.
Similarly, last year, crime intelligence chief Lieutenant-General Richard Mdluli faced charges of fraud and corruption for using crime intelligence funds to buy luxury vehicles.
Corruption within the police force is undermining the public's faith in law enforcement, which is increasingly important in the face of recent crime rates.
From March 2010 to 2011 almost 16,000 murders were committed in South Africa, making it one of the world's leaders in intentional homicide. Additionally, South Africa is host to approximately 43 murders per day.
In light of the crime rate, the role of national police commissioner has been called one of the most difficult public positions in South Africa.
In an effort to renew the department, President Zuma appointed Mangwashi "Riya" Phiyega on June 12, making her the first female commissioner in the country's history. However, this development emerges amid considerable controversy.
As the prior trustee of Nelson Mandela's foundation and an executive at Barclay-owned banking group Absa, Phiyega has been called a "super administrator." But she comes into the new position with very little experience in police work.
"We are still reeling from the shock," an unnamed police official told The South African Star. "We don't know who this person is."
According to Institute for Security Studies researcher Johan Burger, this appointment will further corrode public confidence in their leadership, which may be the reason opposition parties and security experts vied for an experienced police officer to take control.
"This shows that the President has no confidence in the police to lead itself," Burger said.
But Mthethwa believes the appointment evidences Zuma's commitment to transforming the police force. Similarly, the ANC Women's League welcomes the appointment.
"We believe having a strong woman at the help of the police service will bring a renewed focus to overcoming the scourge of gender-based violence, such as rape, which has become a growing concern across the country."
For further information, please see:
Associated Press —South Africa Appoints New Police Chief —13 June 2012
The Guardian —South Africa's Corruption-Tainted Police Force Gets First Female Chief —13 June 2012
Radio Netherlands-Worldwide, Africa —Axed S. African Police Chief Vows to Clear His Name —13 June 2012
The South African Star —Zuma's Top Cop Bombshell —13 June 2012
Business Day —Richard Mdluli Suspended-Again—3 June 2012
Daily News—Selebi Still Draws Pension, Benefits—31 May 2012
All Africa—South Africa: 'Government is Dysfunctional' Say Investigative Journalists—30 May 2012
Author:
Impunity Watch Archive