By Brittney Hodnik
Impunity Watch Reporter, North America
PORT OF SPAIN, Trinidad and Tobago – Trinidad and Tobago has declared a "limited" state of emergency in order to combat the drug-related violence occurring there.  The capital city, Port of Prince – along with other hotspots – is under a 9 p.m. to 5 a.m. curfew.  Authorities are enforcing the curfew in an effort to curb a recent increase in murders.  Last weekend alone, there were 11 homicides, bringing the total for the year up to 264; surprisingly this number is lower than at the same point last year.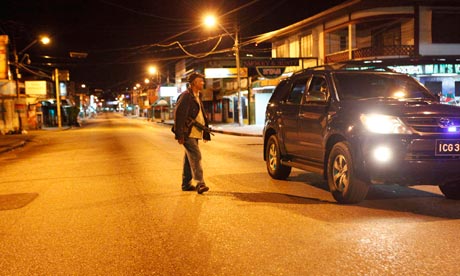 Prime Minister Kamla Persad-Bissessar attributes the recent murders to a large seizure of cocaine.  Trinidad seized $22 million of cocaine two weeks ago, supposedly setting off the string of murders and violence, reports The New York Times.  Many fear that drug gangs are using Trinidad as a shipping point for South American cocaine heading to places such as Europe and the United States. 
Persad-Bissessar and her national security advisors aim to bring the offenders to "swift justice," according to CNN International.  The imposition of the curfew is mainly to preserve the safety of the law-abiding citizens and tourists.  As reported by The Guardian, Persad-Bissessar says that the response must "halt the current spike in gang activity and crime in general in the shortest possible time."
Under a state of emergency, the Emergency Powers Regulations take force, giving the police much broader power.  Many civil rights are temporarily denied, including seizure of weapons, arrests without a warrant, and even warrantless searches of vehicles and homes.  Along with the police, 5,000 military personnel are on hand to aid in the restoration of peace, reported The New York Times. 
Trinidad's citizens accept the policy because they know that it is for the public good.  Although it is an inconvenience, the state of emergency will limit unnecessary death and injury.  "I feel very safe for the first time in a long while," Dolarlchan Hanomansingh, a teacher in Trinidad told The New York Times.
So far, the measures have eased the violence and led to the arrest of 58 gang leaders, according to The New York Times.  Trinidad and Tobago's Newsday reports that Trinidad officials arrested 121 people in a 14-hour span.  However, opposition party leader, Keith Rowley sees the state of emergency as a sign of desperation.
The country's state of emergency will remain in effect until at least September 6, and may be extended with the approval of Parliament.
For more information, please visit:
About.com — Port of Spain, Trinidad Under Curfew — 25 Aug. 2011
The Guardian — 100 Held in Trinidad and Tobago's State of Emergency — 25 Aug. 2011
Trinidad and Tobago's Newsday — Curfew Stops Drug Trafficking Ring — 25 Aug. 2011
The New York Times — Trinidad and Tobago Declares Emergency Over Drug Crimes — 24 Aug. 2011
CNN International — Authorities Impose Curfews on Trinidad and Tobago — 22 Aug. 2011
Author:
Impunity Watch Archive