By Sarah Lafen
Impunity Watch Desk Reporter, Europe
OSLO, Norway — After receiving an anonymous tip, authorities in a suburb of southwestern Norway found part of a wrought iron gate that was stolen more than two years ago from a former Nazi death camp.  The gate was a part of the Dachau concentration camp, and bears the slogan "Arbeit macht frei" which translates to "Work sets you free."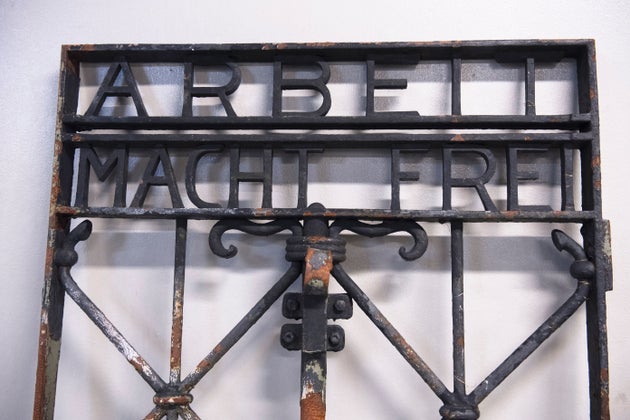 The 220 pound gate was stolen from under guarded watch in November 2014, and is believed by German authorities to have been stolen as part of an organized crime.  The gate was made by prisoners in a workshop at the Dachau camp.  Prisoners entering the camp passed through the gate, as it served as a barrier between their imprisonment and the outside world.
The Dachau concentration camp, located near Munich, was established under Nazi rule in 1933.  Over 200,000 people from across Europe were held at the camp, and over 40,000 died there.
After the camp closed it was turned into a memorial, and the theft of the gate sparked significant international outcry.  The memorial's director explains this rage, describing the gate as "the central symbol for the prisoners' ordeal."  Israel's Yad Vashem memorial called the theft "an offensive attack on the memory of the Holocaust."  German chancellor Angela Merkel called the theft of the gate "appalling."
Recovery of the stolen gate has brought much comfort to those who were upset about its theft.  Jean-Michel Thomas, president of the International Dachau Committee which represents former prisoners from the camp, was "very happy" with the discovery of the gate.  Margrethe Myrmehl Gudbrandsen, a police spokeswoman in Norway, explained that Norway decided to leave the announcement of the recovery to the Germans out of respect for its symbolism.  Gudbrandsen said that the Norwegian authorities "understand this gate is an important monument for Germany."
While the gate was missing, a replica was installed in its place during events marking the 70th anniversary of the liberation of the camp.  Another gate with the same inscription on it was stolen in 2009 from Auschwitz, however has since been recovered.
The investigation of how the sign was stolen might be implicated by the lack of "usable evidence" surrounding the discovery.  The sign is now under police care, and they do not yet have any suspects.
For more information, please see:
The Huffington Post –Nazi Death Camp Gate Found in Norway 2 Years After Being Stolen From Dachau — 3 December 2016
NBC — Stolen Dachau Concentration Camp Gate Found in Norway — 3 December 2016
CBS — Dachau Gate Appears to be Found in Norway — 2 December 2016
The Guardian — Dachau Concentration Camp Gate Found Two Years After it was Stolen — 2 December 2016
The New York Times — 'Arbeit Macht Frei' Gate Thought to be Stolen from Dachau is Found — 2 December 2016