By Darrin Simmons
Impunity Watch Reporter, Middle East
BAGHDAD, Iraq-Heightened security could not prevent an explosion in a town south of Baghdad during the Ashura commemoration rituals.  The attacks hit in the town of Hafriya, in the Wasit province, on early Thursday.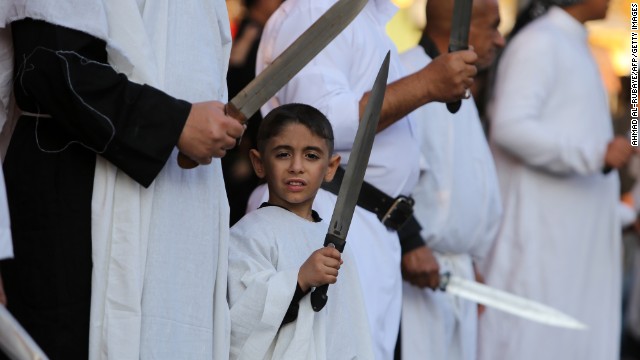 The near-simultaneous bombings targeted a Shiite religious procession killed at least eight people while wounding dozens of others.  Worshippers were gathered inside a tent performing rituals to commemorate the death of Inmam al-Hussein when the attack struck.
During the religious event, regional authorities expect two million pilgrims, at least 200,000 from outside Iraq, will visit the city of Karbala for the ten days leading up to Ashura.  In an attempt to be prepared, 35,000 soldiers and policemen have been deployed to Karbala.
However, late Thursday another suicide bombing ripped through Karbala during the religious process, killing 43 people.  The bomber was disguised in a police uniform, as he made his way through the crowd.
Iraq suffered a third attack on its holiest day when a bombing targeting an army patrol in a predominantly Sunni town north of Baghdad killed two soldiers.
The commemoration of Inmam al-Hussein, the grandson of the Prophet Mohammed, is held to show remorse for not defending him during his death.  Tradition holds that he was decapitated and his body mutilated.  Worshipers display remorse by beating their heads and chests with some making incisions on their scalps as an act of self-flagellation.
"I have been coming since I was young, every year, even during the time of the tyrant Saddam," said Abu Ali, a 35-year-old pilgrim who visits from Basra, a southern port city.  "I challenge anyone not to cry," said Ali, in referring to the strong emotions emanating from the ritual.
Imam al-Hussein's death is one of the events that created the division between the Sunni and Shiite Islam, which dates back to a battle in 680 A.D.
Shiites are the majority in Iraq, Iran, and Bahrain, making up about 15 percent of Muslims worldwide.  Sunni militants that are linked to Al-Qaeda, regard Shiites as apostates and typically target them during religious holidays like Ashura and Arbaeen.
The increased violence against Shiites is the latest in Iraq's deadliest unrest since 2008.  Prime Minister Nuri-al-Maliki, a Shiite, has appeadled to the United States for help by way of intelligence sharing and the supplying of new weapons systems.
For more information, please see the following: 
Al Jazeera-Deadly blasts hit Iraqi religious procession-14 November 2013
Al Arabiya-Blasts hit Iraq as millions mark Ashura-14 November 2013
CNN-36 killed in blasts targeting Iraqi Shiite Muslims on holy day-14 November 2013
Global Post-Iraq bombers kill 43 as millions mark Shiite holiday-14 November 2013
Author:
Impunity Watch Archive