By Justin Dorman
Impunity Watch Reporter, Middle East
BAGHDAD, Iraq ­ – For the fourth time this week, tens of thousands of Sunnis flooded the streets of Ramadi, in the Anbar province, to denounce Prime Minister Nouri al-Maliki and the rest of the Shia led government. As a result of the demonstrations, the main trade route to Jordan and Syria was blocked.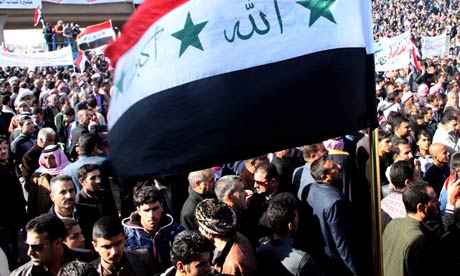 These protests come just a week after ten of Rafia al-Issawi's bodyguards were arrested by troops loyal to Maliki. Issawi is Iraq's finance minister and is one of the government's most senior Sunni officials. Issawi actually went to one of these demonstrations and declared to his fellow Sunnis that, "injustice, marginalisation, discrimination and double standards, as well as the politicisation of the judicial system and lack of respect for partnership, law and constitution . . . have all turned our neighbourhoods in Baghdad into huge prisons surrounded by concrete blocks."
The Sunni people believed that their government officials were being persecuted even before the arrests of Issawi's bodyguards. Prior to the arrests, Vice-president Tariq al-Hashemi, Iraq's highest Sunni official, was sentenced to death. He was charged with running hit squads which he claims are fabricated and is currently in Turkey on exile.
Protestors at the rally flew the old Iraqi flag which Saddam's Baath party introduced and chanted that, "the people want to bring down the regime."
Issawi stated that, "this sit-in will remain open-ended until the demonstrators' demands are met, and until the injustice against ends."
Others, like Sheikh Ali Hatem Sulaiman, the leader of the Dulaimi tribe, say that if the protests demands are not met, they will bring the protests to "the gates of Baghdad."
Shia analysts have discounted the effects that these protests will have on any upcoming election. While the demonstrations may have earned a national audience; analyst for the Iraq Institute for Strategic Studies, Yahya Qubaisi, maintains that the demands are not national but merely regional.
There is a serious fear that Iraq will erupt into sectarian violence. These events are particularly problematic given the health status of Jalal Talabani. Talabani, Iraq's Kurdish president, suffered a stroke around the same time which Issawi's bodyguards were arrested. Talabani has been seen as a unifying figure who could successfully mediate among the Sunni, Shia, and Kurdish.
Political analyst Sabah al-Mukhtar reminded Al Jazeera not to forget that, "we have the Arab Spring. The Iraqis are saying, "if everybody else revolted, why aren't we revolting against a regime, which is anyway imposed on us by an occupying force in 2003?"
For further information, please see:
Reuters – Iraq Sunni Rallies Gather Steam – 27 December 2012
Al Jazeera – Iraq Sunnis Block Trade Routes in new Protest – 26 December 2012
Guardian – Iraq Protests Signal Growing Tension Between Sunni and Shia Communities – 26 December 2012
New York Times – Iraq: Sunnis Continue Protests Against Prime Minister – 26 December 2012
Author:
Impunity Watch Archive